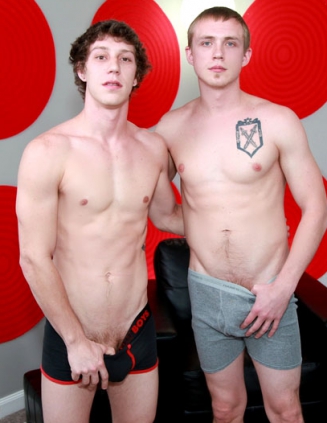 Jake and Paul get their clothes off and make out, kissing and rubbing cocks while they get into it a little more. Paul directs Jake down to his dick and Jake isn't too hesitant to wrap his mouth around it, using those new oral skills to get Paul rock hard as he licks his shaft.
Jake needs some help getting hard, too, and Paul gets on his knees and goes straight for that meat, working it with his mouth and hand until, slurping and sucking until he's got that dick standing at attention! Once it's hard enough to fuck, he offers up his ass to Jake who slides his bareback cock in slow at first...but once he feels how tight it is he can't help but get a little excited and pump Paul's ass harder and faster.
Doggy style, on his side, on his back, Paul bottoms for Jake in any way he can, playing with himself while Jake's cock is buried inside him until finally these two bust a nut and make a mess all over! Jake sure seemed to enjoy it...but soon we'll see how much he likes taking a dick!