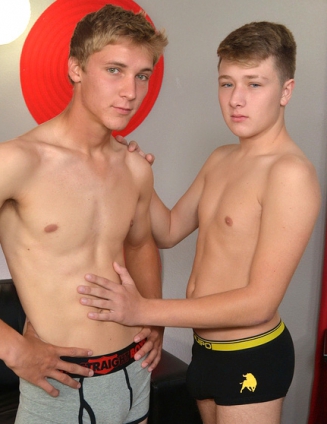 This is Brody Lasko's very first time bottoming and he's a little nervous about taking a dick up his ass, but that's to be expected for a newbie. Lucky for him, he's in good hands with Ayden Troy! They kiss a bit as they strip and then Ayden sits Brody down and takes his cock in his warm mouth, sucking his dick and getting it wet as he drools all over that meat.
Ayden gives Brody's prick a lot of time and attention, hoping to ease his nerves about bottoming, but after getting Brody's dick worked up to full size, Ayden gets some oral too! After Brody has gotten Ayden's cock ready for fucking, he gets on the floor and bears his ass to Ayden who lubes up and gently pushes his dick into Brody's tight virgin ass.
Brody bottoms like a pro, taking that big prick without complaint as Ayden fucks him nice and slow before they move things over to the bed where Brody climbs on top and sits on Ayden's hard cock. He lets Ayden pound him harder as he starts to get into it, bouncing up and down as he rides Ayden's dick. They try one other position, standing up, and that's when Brody shoots his load and Ayden follows, cumming onto Brody's sore ass!