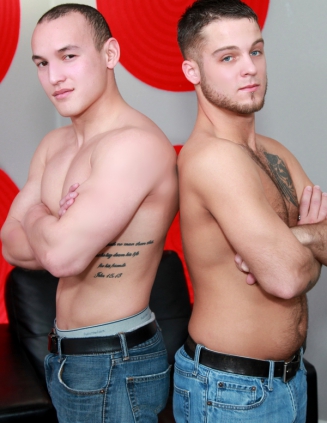 Zeno seems a little more on edge than usual...we think it may have something to do with the fact that he's about to get his big Greek dick sucked by a guy for the first time, or maybe he's a little nervous about having some dude's meat in his mouth? But once he gets started, he gets a bit more comfortable, showing off his ass for the camera before he and Jj start making out.
Jj is a little more experienced and helps Zeno relax, kissing his neck and tweaking his nipple before moving down to his pierced cock and sucking on it slowly. It's just a little tease, though, and he moves back to kiss Zeno's neck and rub their meat together before he pushes Zeno him back on the bed and gets his dick nice and wet, massaging his balls with his hand as Zeno takes charge and tells him what he wants. For being a little hesitant about having a guy go down on him, Zeno sure seems to be getting into it as Jj works him over, licking his balls before Zeno shoves his dick in his mouth again.
As Jj moves back down to his balls, Zeno strokes one out and drops his hot cum all over his stomach. But once Jj starts demanding the same attention from Zeno, he gets defensive and tries to talk his way out of it...but we all know that won't work! So Zeno gets on his knees and gets a taste of cock for the first time, sucking on Jj's dick and licking his balls as he sends Jj over the edge! For a first-timer, Zeno did pretty damn good!