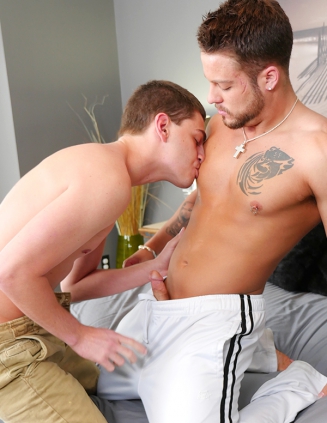 Zeno Kostas warms Tyler Griffin up with some kisses on his neck, getting Tyler hot so that when he turns around he meets Zeno's lips with his, making out as they slowly strip off their clothes. Shirtless, Tyler teases Zeno's nipples with his mouth, working his way down to Zeno's cock and sucking it as Zeno moans in approval. But Zeno wants some meat in his mouth and he insists on going down on Tyler, making Tyler's cock grow as he wraps his mouth around it.
Zeno explores Tyler's ass next, spreading it open and examining that tight hole with his tongue and finger, and then burying his naked cock inside of it. Zeno pounds Tyler hard, fucking that fine ass as Tyler moans and takes that big prick. These sexy boys flip and next it's Zeno fingering his own hole and getting pounded by Tyler's bareback member.
Tyler takes his long shaft balls deep into Zeno's ass, filling him up as he fucks him raw and hard until Zeno comes all over himself. Tyler fucks Zeno a little longer, making Zeno's ass bounce as he takes him until he busts a nut onto Zeno's backside, licking it off and getting a taste of his own cum!