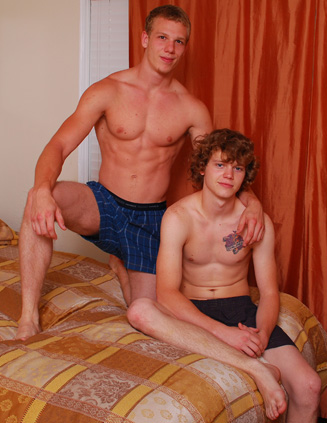 Some things are meant to be together. Rogers and Astaire. Baseball and hot dogs. Jazz and New Orleans. Butt fucking and lube. Just making sure you're paying attention. :-) Today's pairing of Johnny Forza and Max Flint is a natural. Both have caused many of us to drool in heat. They have progressed in their man sex lessons. And does it need to be repeated they are delicious eye candy? :-)

In today's scene they share a bed, dismissing any introductory talk. Instead there is sensuous kissing. They smooch like new lovers, discovering they have the hots for each other. :-) As they lip lock, clothes are removed. Johnny nibbles on Max's chest and Max returns the favor.

Soon Johnny gets on his back, and Max puts that rigid New Jersey rod in his mouth.

"Jerk it all," Johnny says when the curly topped model comes up for air and strokes Johnny's meat.

Max is transfixed by Johnny's tool, licking it like it's candy.

"Oh, fuck yeah," Johnny moans.

Max's mouth works overtime, bobbing up and down to keep his partner hard. Johnny grabs those locks and face fucks Max. He submits, letting Johnny use his mouth like moist pussy. Max doesn't even tear from the effort. When it's done, the two share an extended kiss. Are there any two models who look sexier sharing spit? :-)

Johnny puts his mouth to work on Max. He rubs those furry balls and Max is in heaven.

"Oh, yeah," Max whispers.

Johnny gags occasionally, but that doesn't keep him from slurping his prized possession.

The sucking has the desired effect and Johnny jerks a load out of Max's meat. The cum coats Max's pale stomach. Johnny takes his tool in his hand and strokes juice out of his pole. The first stream lands right on his nipple.

The scene ends with the two boys kissing each other. Who says romance is dead?