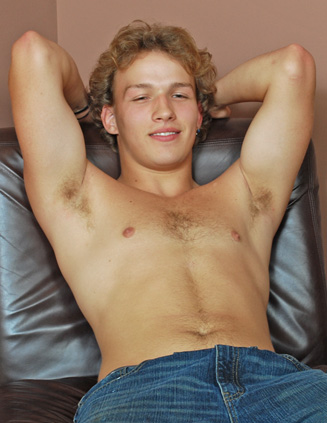 Carson Hawk tells a story that few here will disbelieve. He has a dog now because the homeless canine followed him home. It's surprising only one animal has trailed this sexy beast. :-)

The Chicago cutie is a bit on edge about doing a solo.

"Slighty skeptical," he says when the cameraman wonders how Carson is feeling about stroking for an audience."A little nervous about it."

His BSB funds will be spent for a number of things, from a new car to a computer. He has to bike to work each day. It's a bit of pain, but it has done wonders for the guy's bod. LOL!

If his looks and bod don't make you weak, then the adorable way he retells his first ever jerking off session will get you moist. LOL! It must have brought back memories for Carson because his already impressive tool begins to plump.

He gets on the bed and starts to jerk. All his attention is focused on his dick. Just like us!! Soon it gets to full mast. Leaning against the bed post, Carson looks like the type of guy kings in olden times went to war for.

"Oh yeah," he moans.

Carson gets on his side, and the camera goes for a shot of his perfectly pillowy ass. When he looks into the camera, make sure you're sitting down. Those eyes will cause either squealing or fainting. :-)

He rolls over, back on that ass. His lips compress as he jerks that Chicago hot dog. His thighs tense as the stroking tempo increases in speed. He whispers that he's about cum and gets back on his side. Jizz soaks the sheets. Carson's breathing slowly gets back to normal. Has yours? :-)

"Thanks a lot Carson," the cameraman says. "Hopefully I will see you again."

"It will happen," Carson replies.

YAY!!!!!!!!!