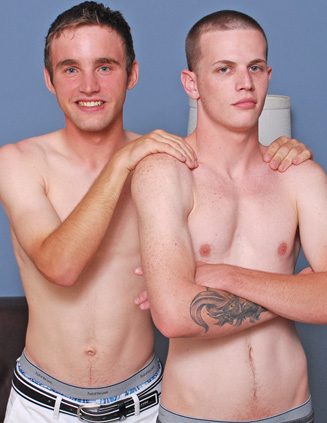 Whenever Anthony is around, an ass is always going to get royally screwed. More than likely his! In today's update he's paired with Trey Evans, whose own backside is still in shock from Zane Tate's monster. :-)

The boys dispense with any talking, and for a brief moment it looks like Trey might lean in for a kiss. Has he ever smooched on screen? Alas, it doesn't happen. The guys feel each other up through their shorts.

"Oh, yeah," Anthony murmurs asthe shorts are removed.

Both lads are semi-hard, but Trey sucks first. He laps the lollipop with energy.

"Damn," Anthony says as he strokes Trey's sausage. "Oh, fuck."

Trey's foot goes in the air as he keeps working on the pole. Eventually he spits on it, and some of that juice lands on Anthony's pubes.

Anthony takes a turn at blow jobbing. He also has lots of energy, but unlike his partner Anthony can deep throat. Sure he gags, but he doesn't let that inconvenience get in the way.

"Suck that cock," Trey demands.

Anthony, who doesn't mind a command or two, does what he's told.

"Oh, shit," Trey says.

Soon enough it's fucking time. Anthony's palms are planted on the bed as he sticks his ass out. Trey knows his partner can take a lot, so he enters in one push.

"Oh, fuck," Anthony whines. "Oh, shit."

His trademark "O" is right on cue. Look how his legs raise up and toes curl. There might be some pain, but the pleasure is too much. How can he ask Trey to slow down?

"Oh shit," Anthony groans.

"Yeah, take that cock," Trey responds.

Anthony reaches back and pulls a at a cheek, giving Trey better access.

Anthony gets on the bed, his hole points to the bed board. Trey reenters and our bottom continues to utter filth. There's a closeup of Trey's rod invading Anthony's mussy.

"Oh, shit. Oh, god," Anthony cries.

"Oh, goddamn," Trey utters.

Can you blame him for his blasphemy (smile)? Does anyone on BSB have a hotter ass than Antony?

"Don't stop. Don't stop," Anthony orders.

The boys go for one more position, Anthony's legs in the air.

"Oh, fuck. It's so deep in there," Anthony says.

Trey is a slow, and deep, driller. Won't kill you with speed, but must go to the balls. Makes sure you feel every inch of his tonka.

"Oh yeah," Trey repeats like a mantra.

Anthony is close to cumming. Hegrabs the edge of the bed and even looks briefly into the camera before he shoots. When he does, Trey pulls out of that bruised hole and jerks himself. His load shoots out like a cannon, landing on Anthony's neck and face.

"Oh shit bro," Anthony declares. Really? Must have been a couple of days, huh? What are you backed up? Shit. Right on my face. On my neck."

"Sharp shooter," Trey announces with a chortle.

"It could could have been worse," Anthony observes. "Could have wentin my eyeball. I have man cum all over me. I have to go wash this off."

Trey continues to grin from ear to ear. Anthony gives a peace/victory sign and a smile! It's a good day when a bottom walks away happy!