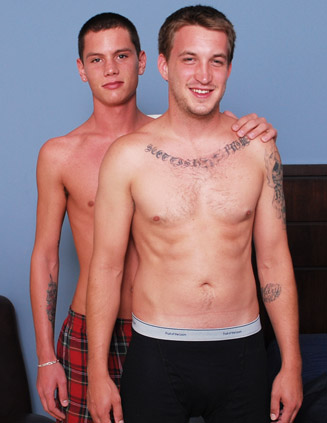 It's a good day when a performer goes "comic book" to describe a scene partner.

"I heard this guy is Gigantor over here," Colin laughs as he points to Carter.

Today Colin and Carter will share the studio's bed; Colin will be on the receiving end of Carter's
mammoth tool.

"Cannon ball it," Colin describes what will happen to his ass after Carter is done with it.

"Ready for it. Ready to take a pounding," Carter wants to know.

To find out if Colin is ready, both boys lose their clothes. They get on the bed, and lean over to pull
each other's dick. Carter's cob gets rigid first and Colin starts to suck it.

Carter''s dick is mammoth, and no one can take it all orally (as far as we know); however, Colin
slurps and sucks the candy cane. Even chokes a few times.

"Slap it on my face," he demands.

"You like that cock," Carter wonders.

Colin can't answer because his mouth has lots of meat. His tongue work is making Carter murmur
sighs of pleasure.

Colin's own dick is getting hard in his underwear.

"You want to return the favor," Colin asks

"Let's do this," Carter says.

Colin is pleased with Carter's dick licks. He deep throats and gags when his nose hits Colin's pubes.

"Fuck, yeah. Lick it," Colin commands.

"You're making me cry. Choking on that dick," Carter answers.

His face might be tear stained, but we all know Carter will soon be in the driver's seat.

Soon enough, Colin takes the classical position called doggie.

As Carter puts a condom on, Colin looks at the stiff boy buster that is about to enter him.

"Jesus Christ," Colin exclaims. "That dick's huge."

"Ready for it, Carter devilishly asks.

"Ready as I'll ever be."

Carter slaps that ass once and aligns to the hole. When he slips it in, look at the bottom's face.
Eyes closed and furrowed brow. Colin is feeling the power of Carter's hurricane.

"Oh, that's abig dick," Colin groans as his hands reach to the sheets for support.

"That's a tight ass," Carter observes.

He's gentle but no matter the speed, Colin's rump is maxed out with dick.

"That's the biggest dick I've ever taken," Colin whimpers.

He tries to be a good bottom boy, but eventually has to beg for leniency.

"Not so deep. Not so deep," Colin pleads. "That thing's big."

He might want some tenderness, but Colin understands how a top can groove to a juicy ass.

"You like fucking that tight hole bro," Colin inquires.

"Yeah. It's so good."

Carter tries not to go deep, but he can't help himself. After a few strokes, he ignores Colin's earlier
request.

"You like that dick," Carter wonders.

"Fucking love it," Colin responds.

Colin's ass gets another loud slap.

"Fucking me so good. You're making me sweat."

Colin is spot on about Carter's prowess. The lanky top is methodical and persistent.

Colin gets flipped on his back. The angle of penetration isn't to his liking because he puts his hand
on Carter's thigh. The horny pair work it out, and Carter resumes plundering.

"Fuck that ass, bro," Colin instructs.

Carter does exactly that.

"Making me hard by just fucking me," Colin observes.

Carter keeps steaming ahead.

"Fucking big cock," Colin sighs. "Doing it right, bro."

Carter grabs his partner's dick and tugs it. That pleases our bottom lad.

"Jerk that dick and fuck me," Colin orders.

Who doesn't love a bottom who knows what he wants?Carter strokes Colin as he keeps exploring
that sweet hole.

"Shoot that load," Carter urges.

Colin's moaning gets quieter as he gets closer to popping. All the stimulation gets to him, from the
prostate jabbing to the pulling of his steely hard dick.

"Holy shit," Colin exclaims as his jizz shoots out.

The orgasm is so intense his body shakes; he even has to beg Carter to stop jerking him.

Carter gets a few strokes in. but pulls out to get his nut. Colin jerks the joystick that was just
plugging him. Carter's creamy load covers Colin's torso.

"Holy shit," Colin says, impressed with all the man nectar Carter lost.

"You like that load," Carter asks.

The boys high five and call out, "cannonball it!"

BSB has found its new motto!