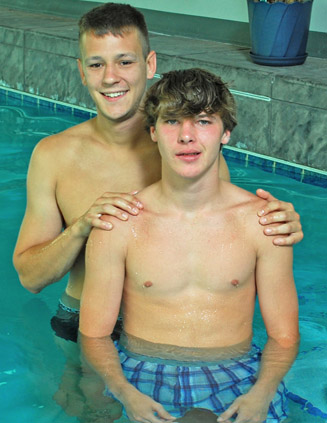 It's hard to believe today is the first time Jason and Kodi have done a scene together. Both models
have become BSB stalwarts because when the camera light goes red both know how to entertain.

This paring is also novel because we are filming ina pool. Who hasn't dreamt of pool loving,
especially if the cabana boys look like our two studs?

Jason has more "pool experience" (grin) than his scene partner, but all that goes out the window
when things get busy. There's lots of romantic lip locking in the beginning. This continues after the
two get in the pool. Kodi's hand looks like it was made to cup Jason's wet swim trunks.

Soon both are naked, the sound of sloshing water echoing in the room. Jason takes a seat and Kodi
goes down. Few can deny Kodi's sex appeal, but it goes up a 1,000 points when he sucks dick. He's
precise when it comes to pleasuring a partner. Lots of tongue and spit, and how can you not fall in
love when he looks up with a kosher pickle in his mouth?

Jason grabs Kodi's locks and pushes that pretty mouth closer to the pubes.

"You like that," Kodi wonders.

Jason's mantra of "oh, fuck" is a good answer to that inquiry.

Jason pulls Kodi up, and it's Jason's turn to give Kodi's kick stand attention. The moment Jason's
lips graze the shiny head, Kodi announces his opinion on the entire matter.

"Oh, fuck," Kodi barks.

"Your mouth feels so warm," Kodi groans after some goodly sucking.

Jason is a deep throating expert. If a dick is hard, he's going to make sure it's all in his craw. Kodi
grooves to this technique because his hand doesn't leave Jason's dome, pushing his partner as far
down as possible.

"Oh my, god. Suck that cock," Kodi demands.

Jason needs no encouragement about getting Kodi's knob wet and juicy.

"You dirty little whore, Kodi says.

The two kiss again. Ah, summer romance. Kodi gets on all fours, like he's going to get fucked. That
might be in the plan, but Jason has some rimming to do first. He spreads those cheeks, and eats
like it's his last meal.

"Eat my fucking tight ass," Kodi requests.

Jason's tongue is working wonders. Exploring Kodi's tender hole, giving it the loving a mussy
needs.

The two swap spit some more. Kodi returns to his hands and knees, his hole slick and ready to be
stuffed.

Jason fucks like he eats ass.No abandon. He slaps Kodi's butt cheek, the smack mixing in with
Kodi's pain/pleasure cry.

"Fuck me," Kodi orders

Jason grabs Kodi's hair, and rides him like a water nymph. Kodi demands more, arching his back to
make as much room as possible.

Jason stops, and the spit sharing resumes. It's Kodi's turn for revenge. Jason gets on his back, his
leg on Kodi's shoulder. Kodi enters Jason in one movement and bangs away.

"Fuck, yeah," Jason groans.

Jason's toes curl and he grabs the wall. That is a what happens when a dick wrecks a hole that's
not been eaten out (grin). Yet, Jason understands the rules of getting dicked.

"Come on. Fuck the cum out me," he orders.

Kodi does and Jason's load slathers his abs. Kodi continues for a few more strokes before he pulls
out. His jizz lands right on top Jason's still firm johnson.

Kodi leans in and plants a loud smack on Jason's lips.

Anyone doubt BSB models are the best?