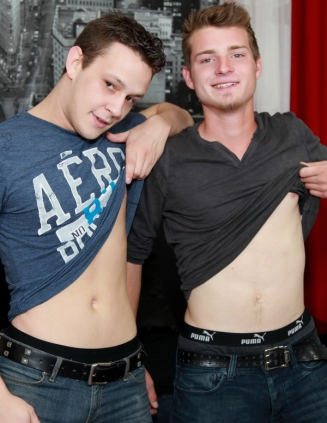 At the start of this update Tristan Stiles and Jason Matthews are sitting on the studio bed, laughing at an inside joke? How many of you popped wood just by looking at these
two? :-)
The cameraman wants a story from one of them, and Jason shares his new tattoo.
"It's my first and only tattoo," Jason observes.
It's a portal, but there's no special significance.
"It doesn't really mean anything to me," Jason says. "I was real drunk and I was like, 'You know what? I want a tattoo!'"
Booze makes all decisions better. LOL!
The cameraman is confused by this, but Jason adds his girlfriend has the same tat. He goes on to list her good qualities (cooking and sex). Apparently Jason once dated a
woman who was going to culinary school, but couldn't boil pasta.
"Even I can't mess up a pasta," Tristan says.
The guys remove their shirts and get on the bed. The cameraman gives them props for looking good. Jason gets completely naked first. His dick is still soft, but he knows how
to make it ready to play.
"Put your tongue in my mouth," Jason commands.
The two lads kiss and make out. Swapping spit is so sexy. This tongue dance has done the trick to Jason's johnson. Tristan leans down and sucks away. He deep throats that
rod, getting it wet with spit. Jason leans back and lets Tristan do what he does best.
"Oh, yeah," Jason whispers.
He decides to offer Tristan some of the same oral loving. He gets him out of his pants and swallows everything Tristan has. He works some mouth magic, making sure to nose
nuzzle Tristan's pubes.
There's another round of kissing before the fucking. Jason will get fucked first. After Tristan puts on a condom, Jason lubes it up.
"Have to get it nice and juicy," Jason says in a faux British accent.
He pushes Tristan on the bed and straddles him. It takes a few attempts, but the sausage finally gets in. Jason goes up and down, taking control.
"Fuck, yeah," he moans,
Tristan doesn't have to do anything but be still. But soon he wants to get a workout. Jason gets on his back, and Tristan returns to that warm, dark, place. Each stroke is balls
deep, hitting Jason's spot.
"Fuck, yeah. Give me that dick," Jason orders.
How can Tristan refuse? Would you? :-)
However, giving and receiving is no fun. So after smooching, Tristan gets on his back. Jason works his meat into that man pussy, making Tristan all moist. Jason is a gentle
top, so he gives Tristan a kiss between strokes. This pushes Tristan over the edge and he shoots a load that covers his pale stomach.
Jason pulls out, kisses Tristan, licks some of the lost man juice, and gives Tristan a taste. This causes Jason to bust cum all over Tristan's stomach. Two man milk loads coating
Jason's yummy tummy!