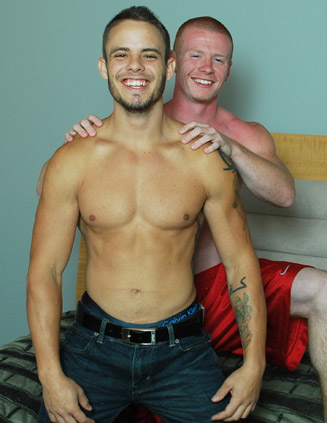 Whenever Spencer Todd a/k/a "The Red Rocket" is on the proverbial BSB bed, a booty will be
busted. Today he's paired with Denver Grand, who is always a beat away from a smile or joke.

The boys start out on the bed. When the cameraman asks who has the better body, Denver
concedes to his scene partner.

"I think Spencer got me right now. Since my show I sort of have left myself go a little bit."

Spencer doesn't disagree that much, but loses the pectoral dance challenge. It's hard to find fault
with their physiques, but will someone please tell Spencer about a technology called sun screen? :-
)

Both know the score and start in real quickly. Denver puts his arm around the Red Rocket and
gives him a passionate kiss. Spencer lip locks right back, making sure to slip Denver some tongue.
From the bulge in his shorts, Spencer must be into a little romance.

Soon the boys are naked, their bacon rods all stiff and ready for action. Spencer sucks first. He's
turned into a major leaguer when it comes to pole love. Doesn't deep throat (yet), but has the
suction and tongue action down. Denver is, of course, happy with how Spencer has taken to his
lessons.

"You know what you're doing, don't you," Denver wonders.

Spencer chokes a laugh, but keeps at working the spit and pre-cum.

"Suck that cock," Denver encourages.

At BSB if you get a good blow job, you have to give one in return. Denver understands this maxim.

"Time to return the favor," Denver notes.

"That's right bro," Spencer replies.

Denver puts his smooth tongue to work. One thing about Denver's popsicle licking skills is he
remembers the enlarged head. Sure deep throating is important, but you got to lick the head.
Denver laps at the tip of Spencer's sausage, giving it the loving attention required.

Denver must be doing something right because Spencer's breathing sure gets raspy! Surprised he
didn't bust right then.

Denver knows where he has to eventually end up in this weekend performance. Without a word,
he stops sucking and gets on all fours. Spencer gets out the condom, puts it on, and slathers on the
lube.

The initial starts of penetration are a no go. Denver's ass is tight, and not used to Spencer's size.
The Red Rocket wants to get into that backside, so he ignores all initial resistance.

"What? You can't take it," Spencer wonders.

"It's a big dick," Denver nearly screams.

He's right, but once Spencer is in he must have his balls smack Denver's tanned ass. Denver takes
the plunging, his eyes closed, moaning with each prostate hit. His ass sweats from the stuffing, but
Spencer shows no mercy.

When Denver gets on his back, his dick is hard enough to cut diamonds. Spencer keeps up with his
mighty thrusting. Denver continues his yelping.

"You like that, bro," says Spencer.

"You fucking bet," Denver answers.

Up to this point the Red Rocket has been a challenging top, but he leans in for a kiss. Denver takes
it so to take his mind off the crimson heat in his bruised hole.

"You like that ass, don't you," Denver inquires. "It's tight."

Denver's dart of love needs release. He jerks himself to a mouthwatering load, smearing his
stomach.

Spencer's load is equally as copious.

"Nice big load of cum," our scene bottom notes. "Warming up my stomach."