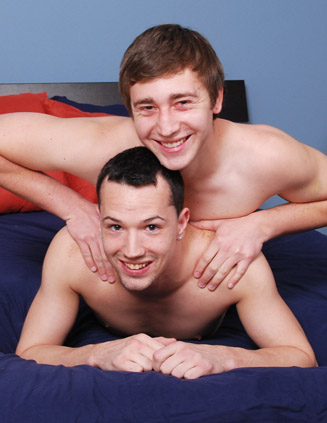 This weekend's BSB features a return of Brandon Beal. Last time he was in the BSB studio, he was
kissing and suckingwith Spencer Todd and Zane Tate. Today he's back with pass around bottom
joy boy Seth. Both seem to be having a rough go of things. Seth lost his job, and Brandon needs
some cash for a new car. Brandon is going to see if his dick likes the feel of Seth's tender tush.
According to Brandon, this will be the first time he's ever had a go at anyone's backdoor.

"Not many girls are into that stuff," Brandon explains. "That's what I found out."

When asked what he's heard about anal amorous activities he notes, "I've been told it's really
tight."

Seth affirms his ass fits that description. Soon both rare naked. Seth hits his natural position, on his
knees, andenergetically sucks Brandon's banana. Originally Brandon is standing up, but needs to
have a seat because his knees are getting weak from the pleasure.

Brandon keeps his hand on the back of Seth's neck, making sure the cock sucker doesn't go
anywhere. Seth is contented to have his nose tickled by Brandon's pubes. If his muffled sighs aren't
sign of happiness, look at his dick.

It's time for the main course. Seth gets in his second natural position, on his hands and knees.
Brandon puts a condom on, and eases up to Seth's backside (side note: is it wrong to feel faint at
the site of Brandon's ass?). He thrusts in and immediately deep fucks. Seth looks like he wants a
chance to get used to the intruder, but Brandon is in no mood for niceties. He puts his hand on
Seth's back and bores in like a man enjoying his initial foray not prime ass.

Brandon gets into a rhythm, drilling balls deep. Seth may have been looking for some gentle
loving, but offers no resistance. When Brandon slaps his ass, Seth moans, "harder." He wants that
hole treated like the mussy it is.

"You like that," Brandon asks as he abuses that man butt.

You know the answer (smile).

Seth gets on his back, his third natural position. When Brandon gets back in, Seth mouths "fuck."
He doesn't beg for mercy. Smart boy. Brandon isn't giving any today.

"Take that dick," Brandon commands.

The powerful fucking makes Brandon sweat; it's crazy, but he looks even sexier with a sheen of
perspiration.

Brandon's pounding makes Seth shoot, his sap landing next to Seth's ear. The sweaty top wants to
cum also and rips the condom off.

"Suck me," he demands while settling on his back.

Seth does what he's told, mouth loving the dick that was just in his ass. He keeps sucking until
Brandon announces it's cumming time. Seth pulls off and closes his eyes wide shut. Brandon must
nothave released a load in sometime because when he nuts his whole body shakes and convulses.
The cum lands on Seth's check and the middle of Brandon's stomach (side note: how finger-licking
good is the light downy fur on Brandon's belly?). He takes a swipe of the juicy blast and places it on
Seth's lips. Seth licks it up like a kitten.

"How does it taste," the cameraman wonders.

"Fine," Seth says.

He doesn't sound convinced and everybody laughs. He might not like the flavor, but the ingredients
are necessary. Hopefully both will return for another mouthful.