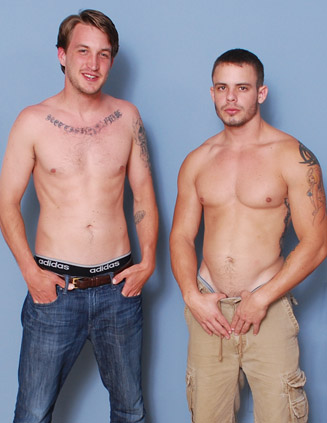 Two hot boys, Denver Grand and forum favorite, Colin, are in the studio together today. Right away, both boys say that they are
feeling awesome; however, Colin doesn't look that excited when he says he is ready to get fucked. While his hair may be longer,
Colin's bank balance is still in the red which means that he is back at Broke Straight Boys in order to make some extra dash. As for
Denver, he is raring to go, so much so, he whips his top off almost immediately, Denver laughing as he wet his finger and then
rubbed it across his nipple as I went in for a close up. As Denver made his nipple dance by flexing his chest muscles, Colin dived
down and started to flick the delicate area with the tip of his tongue. Denver decided that he liked what Colin was doing, however,
quickly turned around and helped Colin out of his t-shirt.

A moment later and both boys were taking off their pants, leaving Denver standing in the buff while Colin still had his black half leg
undies on, something that Denver obviously like the look of as he yanked the waistband a few times. Turning around, Denver
showed off his well formed ass to the camera even as he helped Colin out of his underwear. Soon enough, both boys stood naked,
side by side and ready to get down to the action. Turning to face each other, Colin and Denver took hold of each other's dicks,
slowly sliding their hands up and down the hardening shafts. However, it was quickly decided that they should just bite the bullet
and start sucking cock instead of indulging in a hand job. Colin sat down on the bed, his legs spread wide while Denver knelt down
between them.Flashing a wide grin to the camera, Denver got right down to work, swallowing down Colin's half hard cock.Leaning
back, Colin obviously liked what Denver was doing, so much so, that he couldn't help but comment how well Denver was doing.

Even though he was somewhat of a noisy cock-sucker, Denver knew exactly what he was doing as he licked around the underside of
Colin's cock. Denver soon had Colin panting in pleasure as he lightly nibbled on the sparsely haired balls, a moment later, Denver
showed off just how well he had paid attention in earlier scenes by going all the way down on Colin's cock.All too soon, it was time
for Colin to show off his own hard earned skills. As Denver scrambled up onto the bed, Colin re-arranged himself so that he was
lying next to Denver, his head level with Denver's crotch.Mouth opened up wide, Colin slid the hard cock in between his straight
boy lips. Bobbing up and down, Colin made sure that he licked every spare inch of Denver's cock before sucking on just the tip.
Colin wrapped a large hand around the thick cock shaft, twisting his hand from side to side even as he licked all around the tip of
the dick. Thanks to Colin's expert ministrations, it wasn't long before it was time for Colin to get his ass fucked.


Deciding to do something a little different, Colin leaned against the studio wall while Denver got himself prepared. Denver dribbled
some lube down Colin's ass crack and with a firm grip around his own cock shaft; Denver slowly worked his cock into the tight ass.
Reaching around, Colin helped Denver out by steering the dick into his own ass. žNot so fast!Ó groaned Colin, žNot at first!Ó Taking
the hint, Denver slowly slid his dick in and out of the tight ass, Colin almost shivering from the sensation. Oooh, gotta get you
warmed up!Ó ground out Denver, picking up the pace a little. By now, both boys were working hard, the sweat dripping from their
brows. Reaching down between his legs, Colin grabbed hold of his cock and started to jerk himself off, all the while, Denver fucked
his ass hard. Grabbing a handful of Colin's hair, Denver muttered that Colin loved it, Colin moaning in ecstasy even as he told
Denver to keep pulling it.

A moment later, the two boys broke apart so that they could switch it up. Laying down on his back on the bed, Colin threw his legs
out wide even as Denver slid back home. His hips positioning back and forth, Denver fucked Colin for all he was worth, all the while;
Colin jerked himself off as he chased an orgasm. 'Fuck the cum out of me!' demanded Colin as he stripped his dick. Happy to oblige,
Denver pounded Colin's ass without mercy. Only a second or two later, Colin shot his load all over his stomach and pubes. Pulling
out, Denver fisted his dick in a fast and furious manner before spraying his load over Colin's dick and balls.