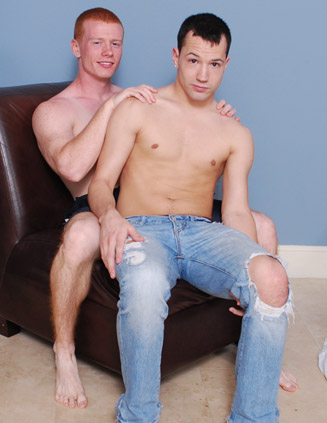 Our resident red rocket, Spencer, is continuing his lesson when it comes to man loving. Last time we
saw him, he was exploring those red hot buns with a dildo. This week, he's about to discover the
special treat called male ass. Seth, looking sexy as hell with his t-shirt lifted just enough to
show some tummy, has "volunteered" to be Spencer's first bottom.

"Yeah, I'm pretty good at that," Seth notes to the cameraman, talking about his skills as BSB's in-
house bottom.

Both boys lose their clothes, and Seth's s dick is already hard. Someone is excited about getting
tapped!

He opens his mouth and take's all of Spencer's semi-soft dick. It doesn't stay soft for long; Seth
has this cute little habit of always checking his jaws after sucking a real thick dick. Like he's
worried those cheeks will sustain serious damage.

Spencer attempts to be stoic, but soon his hands are pushing Seth's head toward the red bush.

After Seth's eyes have watered enough. he gets his buns ready. He knows the score. Spencer doesn't
know the meaning of reciprocate (at least today he doesn't). Seth bends over the edge of the bed,
offering his ass for the taking. Spencer enters, in one full thrust, and begins with short brutal
strokes. No complaints though. All that is heard are the bed's squeaksand Seth's moans of "oh
yeah."

"You like that bro," Spencer asks.

Seth responds with a moaned yes, and the top boy gives that ass a well earned slap.

Positions are changed. It's Seth's turn to sit on the dick. He rides like a cowboy breaking in a
bronco. Seth gets tired of being in charge, anddecides it's time to put those fine legs in the
air. Spencer turns talkative.

"You like it deep? How deep," Spencer inquires.

"All the way," Seth replies his answer barely above a whisper.

Spencer is a polite man and does exactly what he's told.

The camera zooms overhead, and we see it all. Spencer's dick pumping in and out, and Seth's facial
expressions when his joy button gets a tweak. Seth looks so lovely getting fucked. All helpless and
brimming with desire, needing to be plugged right.

Spencer goes balls deep, getting positive encouragement from his sexed up partner.

"Harder. Faster," Seth whispers.

There is some dirty talk, both encouraging the best out of each other.

"Take it," Spencer says.

"Give it to me," Seth responds, sounding like he was born to be on his back.

All the ravishing eventually forces Seth to shoot a sweet load. Spencer doesn't go the "considerate
top" route by pulling out immediately. The red rocketkeeps pushing into Seth's well used booty. A
few more strokes and it's Spencer's turn to pop. Pay attention to how Seth keeps his eyes closed,
scared all of Spencer's juice might blind him. Is it wrong to have wanted our resident bottom to
have walked the extra mile and swallowed Spencer's nectar? Spencer's cum lands far from Seth's eye,
falling directly on the bottom's spent dick.

Another top notched in Seth's belt. Who should be next?