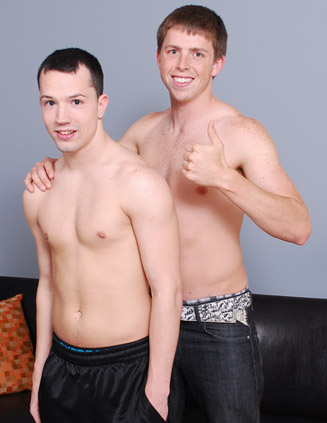 Seth and Zane are today's couple du jour. Seth's eyes are shifting around like he's nervous. Zane
leans back as if he has not a care in the world. Seth's anxious energy is perfectly understandable
because today's duty is to be Zane's first experimentation with man ass. While few would complain
about being pierced by Zane's "cucumber," as Seth calls it, the bottom boy seems worried his
backside might not survive the upcoming onslaught.

This will be Zane's first time working over male booty, but he's no rookie to rear door lovemaking.
He's taken a few ladies anally, but can't remember how many. Considering how straight guys are,
Zane is either being forgetful with the truth or has made multiple gals bite the pillow. Seth, trying to
gain some control, assures his future top that ass, no matter male or female, feels the same.

Shirts are soon taken off and the boys do some kiss kiss. No deep tongue action, but it's sweet to
see Zane take control by grabbing Seth's neck.

The boys take a seat and Zane starts sucking his partner's dick. Zane's oral skills aren't first class,
but he's getting there. Uses his hand every now and then, and sucks Seth's head like it's an ice
cream cone on a summer day. Seth must like it because he's all murmurs and sighs.

Seth has to return the favor. Zane doesn't let his suckee off his meat, pushing that head down on his
hefty monster. Seth doesn't complain or push back. Instead he keeps his mouth open and takes all
he can. Zane moans encouragement and the look on his face says it all: he's impressed with Seth's
skills.

Seth does come up for air, looks like he's had enough, but goes right back down like a well-groomed
cocksucker.

Before we get to the ass action, Seth's eyes are watering, and he checks to see if his jaws still work.
His mouth might have been treated roughly, but his dick sticks straight out. A little rough treatment
never hurt anyone.

After the lads are prepared for the fucking. Seth hits his knees, facing the wall. Zane gets behind
him, and aims for home. Once inside, he's all business. He is no beastly brute; instead he takes his
method from that Pointer Sisters' song. He's not going to "come and go in a heated rush."

Seth must like that tune also because he repeats "oh fuck" the whole time. The cameraman asks
Zane how it all feels. He responds in the affirmative, but has no time for chitchat. There's some
male tail to explore.

Before he rolls on his back for more stuffing, Seth gives Zane a "thank you for giving it to me so
good" kiss. He puts those superb legs in the air, and the slow fucking resumes. There is a close-up
of Zane's stomach that might make a few weak in the knees. His body, especially his tummy,
deserves a thorough licking.

Seth would agree, but he's too busy enjoying the Zane "cucumber." The bottom boy strokes his dick
as he gets dicked. He soon comes to a climax, his seed oozing out.

Zane explodes next, and boy! His splooge goes all over the place, covering Seth's torso. Too bad
Seth didn't taste some of that white tasty treat.

The cameraman wonders how it went for Zane ---as if we all don't know!

"It wasn't as bad as I thought," the exhausted lad retorts.

Does that mean Zane will return to "slow hand" someone else? Any suggestions?