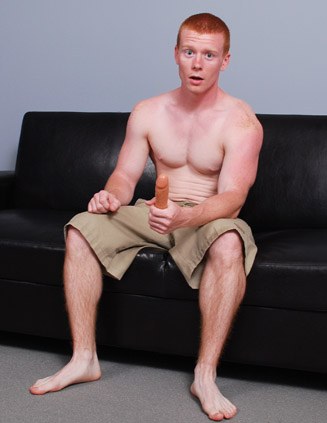 Spencer Todd's ass gets much need attention today. The red rocket tells the cameraman nothing has
been in that ginger hole. Not even a finger. Apparently his girlfriend tried once, but wasn't
successful. Wonder why?

Clothes are quickly shed and Spencer sits down and plays with himself. In no time at all, all the
blood rushes to a certain area. Before he reaches full engorgement, the camera does a slow scan of
his face and chest. The gym work he's been doing recently is paying off. A fine muscled chest and
thighs that could crack a walnut.

Once his dick is ready to go (isn't the head adorable?), Spencer pulls out the dildo. The toy gets
all lubed up, and is pushed all the way into the virgin territory. Lucky latex cock! Probably
doesn't recognize how privileged it is. Looks like Spencer is not an advocate of gentle loving with
an untapped ass. He takes his own cherry with no mercy.

The camera goes below and there is a wonderful view of his face and stuffed rump. Pay close
attention to Spencer's expressions. He is struggling not to like his ass getting pleasured, but when
the dildo hits that sweet spot his moans say it all. Probably wondering why his girlfriend wasn't
more insistent about butt play.

He heads to the couch, his backside facing us. Keeps pushing the new bestest toy all the way in. A
few strokes cause those pale toes to curl up in ecstasy.

When he gets on his back, legs in the air like a good bottom straight boy, he's using the dildo like
a champ. Must be feeling real good because he moans and purrs like a lad in heat.

The penile and anal stimulations get to him, and Spencer shoots a load all over his hand.He gets
extra bottom boy points for keeping the toy in his butt after cumming. Anyone want to bet he brings
the dildo home as a gift to his girl?

The cameraman asks Spencer how it felt, and the red rocket is all smiles.

"Not what I expected" he replies.

Typical straight boy response after an ass has been sweetly busted.

"Maybe we can convince you to get fucked one day," the cameraman wonders.

"If you pay me enough," Spencer says.

Judging from his smile, BSB won't have to break the bank for him to sit that pale ass on some real
(thick) dick. Wouldn't be surprised if he didn't even take the cash.