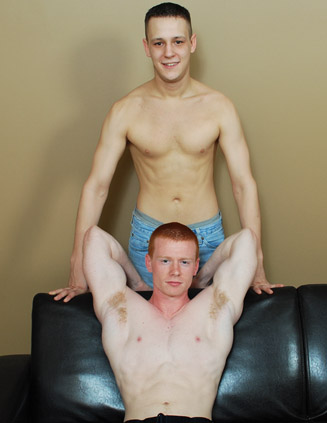 Jason is in the studio today to initiate Spencer into the wonderful world of man on man sex. It took a bit of work to get Spencer back
into the studio, especially when I told him what I wanted him to do, but like always, money talks and soon enough, he was sitting
next to Jason and wondering what he had gotten himself into. I asked Spencer if he has ever jerked off with another guy before and
Spencer said he had but it had been when he was around ten years of age. The two boys took off their t-shirts, and now that he was
half naked, Spencer was even more uncomfortable, saying that out of 1 to 10, he rated an 11 on the nervous scale.

Both Spencer and Jason started to play with their cocks, working on getting them hard and ready for some hot action. Once both
boys had hard dicks, I decided to ease Spencer into the 'gay for pay' scenario by asking him if he wanted a back massage courtesy
of Jason. As Spencer tried to decline, Jason moved to stand behind him, waiting for a yes or no. Sighing, Spencer agreed to the back
massage when I offered him another $100 and Jason dutifully started to knead Spencer's large shoulders, all the while, Spencer
shook his head in disbelief. Sure enough, barely a minute into the massage, Jason had to laugh when Spencer said that he could
stop. I then shocked the life out of Spencer when I told him that I would give him another $500 if he let Jason suck his dick. It was
pretty obvious that Spencer had no idea what to say, but then, with a sly grin on his face, he said he wanted more money. I offered
$750 and it took a mere two or three seconds for Spencer to give the go ahead. "Lucky me!" said Jason as he slid to his knees in
front of Spencer. Tugging down Spencer's shorts another couple of inches, Jason licked a long stripe from the balls to the head,
instantly making Spencer gasp. However, the mere thought of having another guy go down on him was all too much for Spencer and
he had to cover his face with his hand so that he didn't accidentally look down. Jason, however, took it in his stride and pulled out
all the stops in order to give Spencer one of the best blowjobs of his life. Bobbing up and down on the thick shaft, Jason had
Spencer panting in a matter of a few seconds even as he pulled the black shorts completely off. I had to do something to break up
the tension so I asked Jason if he could hum 'Mary had a little lamb', both boys laughing at this unexpected request. Going back
down, Jason gave it a try, Spencer having a chuckle even as he hid his face again.

Spencer was tensing up again so I got him to shift positions while Jason got naked. Sitting against the arm of the sofa, Spencer,
while not quite hiding all of his face this time, seemed to have relaxed somewhat as Jason swallowed his cock back down. As Jason
jerked himself off while sucking on Spencer's cock, I asked Spencer how the blowjob felt, Spencer answering that girls did it better.
When Jason came up for air, I asked Spencer if he had ever had his ass eaten out and unsurprisingly, Spencer said he hadn't as he
thought it was really gay. Jason then piped up saying that the first time he had had it done was by a girl. I suggested that Spencer
might want to try it but he really didn't want to do it. Like before, I offered more money but I told him to show off his virgin hole
before I offered a set amount. Shaking his head, he nonetheless pulled his ass cheeks apart and flashed his ass to the camera. I
offered $250 but Spencer wanted more so I reluctantly upped it to $500 but told Jason he wasn't getting any extra. Agreeing upon
the extra $500, Spencer knelt on the couch and rested his upper body on the back while pushing out his ass. Kneeling behind
Spencer, Jason spat on Spencer's ass and immediately started to polish the hole with his tongue. As Jason worked his tongue back
and forth, Spencer almost leapt into the air as he felt what it was like to get rimmed for the first time. Surprisingly, Spencer kept
cracking jokes as Jason licked his hole, telling Jason that he had taken his manhood. Grabbing Spencer's long cock, Jason laughed
even as he gave the dick a few tugs. It was clear that Spencer liked what he felt as Jason worked over his ass hole with his tongue.

All too soon though, it was time for Spencer to show off his very expensive cum shot. Standing up, Spencer took control of his cock
and put in some hard wrist action while Jason knelt in front of him on the floor. However, after a moment or two, Jason slid the thick
dick into his hot, wet mouth and demonstrated his oral skills on Spencer, all the while, he jerked himself off at a furious pace. Once
again, Spencer became uncomfortable with a guy giving him head and it was no surprise that Jason was the one who came first, cum
shooting up onto his chest before dribbling down to his stomach. Resuming his blowjob, Jason played with Spencer's balls in an
effort to encourage him to release his load. As the minutes ticked by, it was clear that Jason was going to have to put everything he
had into the effort. However, it became clear that Spencer was too distracted by another guy jerking him off in order to cum so he
resumed control of his cock, his hand flying up and down his shaft. A couple of minutes later, Spencer unleashed his load onto
Jason's out stretched tongue.