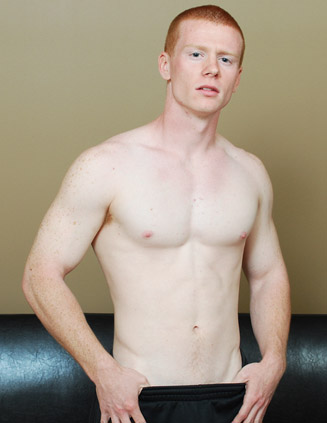 There is a new boy in the studio today and his name is Spencer Todd. This strapping red head is financially strapped so he is here
to do a solo jerk off so that he can pay his bills. Standing up, Spencer said that he worked out most days of the week and as he
flexed his muscles to prove his point, there was no doubt that he is one of the most muscular boys to appear on Broke Straight
Boys. As I zoomed in for a close up, Spencer admitted that his favorite part of his body was his back. Taking off his white singlet,
Spencer turned around and was more than happy to flex his back muscles for the benefit of the BSB members. He turned around
again and was fairly comfortable with the camera panning down his body until it zoomed in on his crotch. At my request, he
pulled down the waistband of his sweat pants and showed off his half soft cock and fiery red pubes and I couldn't help but quip
about how he must have been asked if his carpet matched the drapes.

'Too many times!' grinned Spencer, as he took off his shoes and socks. Spencer then surprised me by saying that the first time he
jacked himself off was when he was about eight years old and that he had jerked off with friends before while watching porn. It
was time for Spencer to take off his baggy black sweat pants so I told him to do it sexily. While his slow disrobing wasn't anything
akin to being sexy, Spencer displayed an aura of confidence as he played to the camera. Revealing thighs that were just as toned
and muscular as his arms, Spencer turned around and showed off his well rounded butt to the camera. Turning back around,
Spencer played with his soft cock and balls even as he admitted that, when hard, his cock is around seven and a half inches long.
On that note, I told Spencer to work it up. Wrapping a hand around his cock, Spencer started putting in some hard wrist action as
he worked on getting hard. It didn't take long for Spencer's dick to start lengthening and pretty soon, he had a big cock that only
complimented his well built body. In fact, once his dick was rock hard, it looked to be much bigger than his stated seven and a
half inches. On a cheeky note, I asked Spencer to make his dick bounce up and down and even though he was slightly
embarrassed to do it, none the less, a moment later, Spencer's dick gave a few gentle bounces.

Sitting down on the couch, Spencer was concentrating on getting his dick harder than ever, his hand sliding up and down the
extra thick shaft. Spencer let go of his dick and contracted his stomach muscles a few times so that his cock gently swayed from
side to side. Giving the camera a stern look, Spencer renewed his efforts at self pleasure even as he shifted to lean up against the
arm of the sofa. As he played with his cock, Spencer's breathing got louder and heavier, clearly turned on by the opportunity to
jerk off in a new place. I asked him if he was able to cum, Spencer answering that it was going to take a minute. Shifting slightly in
his seat, Spencer stretched out a long leg and started to fist his own dick at a faster pace. He swapped from hand to hand,
occasionally rolling his balls with the tips of his fingers. Spencer paused for a brief moment to grab some lube, slathering the gel
up and down the thick shaft of his cock. With the help of the slick gel, Spencer's hand flew up and down the length of his dick as
he got closer to cumming. Groaning in pleasure as he twisted the palm of his hand around the very tip of his dick, Spencer shot
his load of cum all over a freckled thigh.

Since Spencer did such a great job in his solo scene, I'm sure that he will be back in the studio in no time at all and who knows,
maybe he will be paired with another favorite red head, Connor?