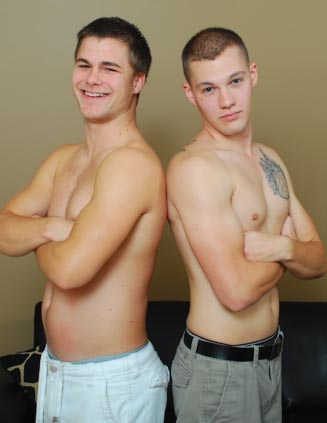 For today's update, we have two of the hottest boys on the site together; Chad and Jimmy. Right away, it was easy to see that the two of them were really relaxed and in tune with each other. Chad, Jimmy and myself were chatting about bromances and how I was going to go to Connor's home town on the weekend before we started in on the nitty gritty such as what sort of new things the boys were going to bring into the shoot. As we talked together, Chad and Jimmy started discussing what it was like to get their asses licked, Jimmy likening it being as if a lizard was getting his tongue right around his behind. Suffice to say, one of these boys was going to get their asses licked.

It was enough of the small talk and now it was time to get down to work so the two boys stripped down to their boxers. Jimmy and Chad stood next to each other, rubbing their cocks through the soft material until their dicks stiffened up. Like always, Jimmy won the race hands down. Plonking down next to one another, Jimmy held his dick straight as Chad leaned over and slid the hard cock between his straight boy lips. Slowly but surely, Chad bobbed up and down on the thick cock even as he fisted his own dick. Despite not going down as far as he normally did, Chad made sure to lick and nibble the tip of the dick, all the while, Jimmy gasped and panted in pleasure. Chad made sure to send the camera a few sultry glances as he worked his magic with Jimmy. Pausing for a moment to gather his breathe, Chad grasped the dick in a firm grip and pumped the shaft, much to Jimmy's delight. From the look on Jimmy's face, there was no doubt that he was loving the blow job and clearly didn't want it to end any time soon. As Chad licked up and down the shaft, momentarily nuzzling at the tight balls, Jimmy couldn't help but stroke a hand over Chad's shaven head.

Despite earlier saying he had been rimmed by a select few girls before, Jimmy has never had the privilege of another guy doing it but luckily, Chad is willing to take up the challenge. Jimmy settled himself on the sofa, kneeling on the seat while draping his upper body over the back so that Chad had easy access to his virgin ass hole. Grinning, Chad got in close towards Jimmy's ass and immediately went to work, licking a long stripe over the pucker. Knowing it was Jimmy's first time and that he was somewhat nervous, Chad took it slowly as he barely did more than flick his tongue back and forth. It was hard to read the emotion on Jimmy's face but it was a sure bet that he wasn't sure what he was supposed to be feeling right that moment. Chad started doing longer licks, swirling his tongue around the hole. I asked Jimmy how Chad was doing but Jimmy couldn't really say but he did admit it was 'different.' All too soon, however, it was time for Chad to get his ass fucked.

The two boys got themselves prepared, Chad kneeling on the floor with Jimmy behind him. As Chad leaned over the arm rest of the couch, Jimmy slowly worked his cock into Chad's tight ass, eliciting a grunt from Chad. Once buried deep within Chad, Jimmy was able to set a fast but steady pace even as Chad wanked himself off. Pausing only for a brief moment as his dick almost slipped out, Jimmy thrust in and out of Chad to a chorus of flesh smacking flesh. His dick sliding back and forth, Jimmy sped up as he rode Chad hard. By now, both boys had worked up a heavy sweat from all their hard work, the sweat dripping down their chest. There was no doubt that Jimmy loved Chad's tight ass as much as Chad loved having Jimmy's dick up his ass. A hard slap to Chad's ass and Jimmy suggested that they take it to the couch. Chad lay face down on the couch, Jimmy straddling his thighs even as he drove his dick home again. From this new angle, Jimmy was able to go deeper than ever even if he had to go only a tad slower.

Bracing himself on the couch, Jimmy pounded Chad's ass like there was no tomorrow, all the while, Chad moaned in pleasure. Jimmy leaned down, almost laying on top of Chad as he relentlessly drove his hips up and down. Slipping out for a split second, Jimmy aimed his dick at Chad's ass hole and slid back in, Chad groaning as he felt every inch of it. Only a minute later, Jimmy announced he was ready to cum and pulled out again. Jimmy had been so turned on by the feel of Chad's tight ass around his dick, it only took a few brief seconds of jerking off before he spilled cum all over Chad's ass and down his ass crack. Now it was Chad's turn to show off his cum shot. Turning over onto his back, Chad took his cock in one hand and quickly stripped his dick until he shot a load over his stomach and into his pubes.