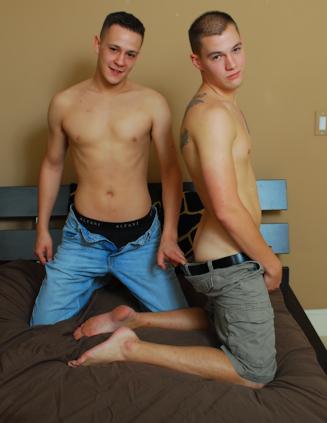 Jason, one of our most popular models, is back in the studio along with Chad. While Jason had rocky plane flight over to where we are situated, Chad was worse for wear as he had lost most of his voice after having too much fun at a local bar. In order to get the boys warmed up, I had Chad stand up, turn around and pull down his pants. Jason then stood up and gave Chad a couple of hard slaps on the ass, even hurting his own hand in the process. The two boys then got completely naked, throwing their clothes at their feet on the floor. Sitting side by side on the bed, Jason and Chad jerked themselves off with relish and didn't take long to get hard. It was obvious that Chad thought Jason was hot as he couldn't help but grin slyly even as tried to discreetly watch Jason wank off.

However, as Jason was an old hand at giving blowjobs, he went first, grasping Chad's dick in one hand and swallowing it down. Right away, Jason had Chad sighing in pleasure as he slid the long dick in and out of his very experienced mouth. Slowly bobbing up and down, Jason broke off for a moment in order to exclaim, 'that's monstrous!' before going back down. Wrapping a hand around his own dick, Jason tossed off even as he pulled out all the tricks as he sucked on Chad's cock. In a daring move, Jason let the large dick slide all the way down his throat but quickly pulled off, eyes watering even as he choked. It didn't matter to Chad though, he was loving every moment of the expert cock sucking, even going so far as to encourage Jason to go down further by pressing on the back of his neck.

Now, it was time for Chad to show Jason just how much he had learnt so far. Leaning over, Chad slid the hard dick into his hot, wet mouth and started bobbing up and down even as he played with his own cock. There was no doubt that Chad was enjoying the taste of cock and Jason was more than appreciative as he moaned in delight. Jason was loving the blowjob so much, I told him to show off Chad's ass hole so that the Broke Straight Boy's members could see what he would soon be fucking. He quickly complied even as he grinned while he watched Chad experimenting with his dick. I had an idea so when Chad pulled off for some much needed air, I asked him if he had ever had his ass licked. Chad, of course, replied that he hadn't so I told Jason to get to work. Chad lay down on the bed, knees bent back and legs up in the air while Jason knelt between them. Pushing Chad's legs right back, Jason bent down and started to lick Chad's ass.

This was totally new for Chad and from his expression, he really wasn't sure what to think as Jason ran his tongue along his ass hole. Soon enough though, Chad was loving it, admitting that although it felt pretty weird, it also felt awesome. With Chad so relaxed, Jason decided they would start the fucking as soon as possible so he rolled on the condom and was able to slid into Chad's ass in one go. Chad clutched at the side of the bed with one hand and cupped his balls with the other, all the while, Jason set himself a steady pace. It wasn't long before Jason was thrusting in and out in a fast rhythm, making Chad moan in pleasure. Jason was going faster, punishing Chad's ass but Chad was loving it. The two boys had a great connection, grinning at each other even as they couldn't stop touching one another.

In one swift movement, Jason shifted them both so that they were spooning, all the while, he kept fucking Chad's tight ass. Lifting Chad's leg up, Jason's hips were snapping back and forth as he rode Chad's ass hard and fast. Both boys were sweating from all their hard work and it wasn't going to be long before one of them shot their load. Even accidentally slipping out on a badly angled thrust didn't stop Jason from making Chad his bitch and Chad loved every minute of it. As Chad reached down to start tugging on his cock, Jason pulled out and wanked off at a furious pace. I hinted that Jason may have something that would fix Chad's sore throat, the two boys grinning slyly as they knew exactly what I meant. Only minutes later, Jason pulled Chad's face close towards his cock and unleashed a torrent of cum over Chad's face. Chad was so turned on by the facial, it only took him seconds before he came, cum dribbling down onto his stomach and into his cropped pubes.