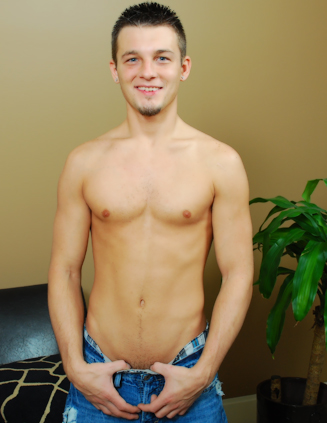 There is a new guy in the studio today, Ross. I've known him for a while and it's taken quite a bit of encouragement to get him to come into the studio. However, luckily for me, he needs some fast cash in order to get his bike out of inpoundment. Although he has a girlfriend, Ross is willing to give a solo exhibition a try for the first time. Standing up, the 22 year old quickly stripped off, revealing a well toned and taut body. He sat down way too fast so I had him stand up again so that the Broke Straight Boys members could get a better look at his ultra hot body. At my request, Ross turned around and showed off his cute ass, not to mention the art decorating his back, and gave one well shaped cheek a hearty slap.

Making himself comfortable on the couch, Ross grabbed the bottle of lube and slicked up his dick. 'It's cold!' whispered Ross, grinning from ear to ear as he worked the lube. His hand slowly sliding up and down his slick shaft, Ross wasn't shy about acknowledging the presence of a camera in the room and his manner reminded me a little of Chad, likewise with the smile. Ross worked on his cock and it wasn't long before he was rock hard, obviously not shy at all. Shifting to sit on the back of the sofa, Ross spread his legs wide, allowing for a better look at his best feature. He swapped hands, jerking himself off as he ran his other hand along his chest, playing with his nipples before pinching them. For a first timer, Ross was very relaxed and couldn't help but grin and laugh when I pulled in for a close up of his handsome face. As I panned down his body, Ross held his dick in one hand while he rolled his balls around with the other. It looked like he was pretty close to cumming so to distract him, I had him stand up.

Scrambling down from the couch, Ross stood at an angle to the camera, pumping more lube onto his dick. With slow but sure movements, he kept wanking himself off even as he absently massaged his own ass. Each time Ross glanced at the camera, it was obvious that he was getting more and more turned on by it's presence in the room. Reaching up, he played with his nipples, pinching them hard as he worked up a sweat. Only minutes away from his cum shot, Ross lay down on the sofa and got himself comfortable. Another dollop or two of lube and Ross kept leisurely wanking himself off. In a cheeky moment, Ross widened his legs and spread his ass cheeks so that there was a clear shot of his virgin ass, all the while, Ross had a sly grin on his face. Ross was almost at the brink of cumming, his hand flying up and down his shaft. Hips pistoning up and down, he fucked his own hand as cum spurted onto his stomach and dribbled down his shaft and fingers.