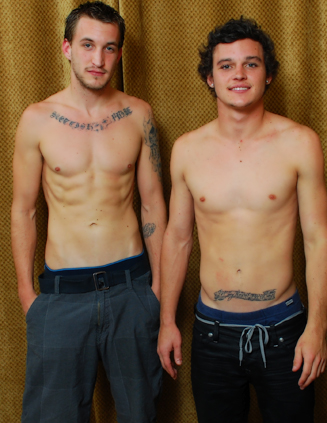 Bobby and Colin are pairing up today and with these two boys in a room, it's going to be extra hot. Since the last time he was at the studio, Bobby has encountered some sticky situations such as being sprung in a 69 by the girl's grandfather while Colin is just happy for some extra dosh. As both the boys were eager to get the show on the road, they stood up and stripped off naked in record time. Colin immediately sat up against the headboard, jerking himself off while Bobby sat on the end of the bed, tugging on his dick before doing quite the fancy move to sit next to Colin. Since Colin was hard first, and he was the one who was going to be taking cock later on, Bobby leaned over and introduced Colin's dick to his mouth.

Right away, it was easy to see that Colin was loving the feel of Bobby's hot, wet mouth surrounding his dick. As Bobby slid the thick shaft in and out of his straight boy mouth, Colin tightened his fingers through Bobby's hair, gently pressing down in order to hint for Bobby to go all the way down. Thrusting up, Colin slowly face fucked Bobby who, like a complete pro, went with the flow and let Colin do his thing. However, it was time to swap so Bobby sat back while Colin wrapped a hand around his dick and started jerking himself off as he swallowed down Bobby's long cock. Colin soon had Bobby panting in pleasure and moaning for more as he pulled out all his tricks. With a couple of not so subtle pushes on the back of Colin's head, Bobby indicated that he wanted Colin to swallow him all the way down. Instead, Colin pulled off and slapped Bobby's cock against the four day growth along his cheek, making Bobby laugh. However, Colin did try to slide the dick down his throat but choked from the effort, all the while, he kept wanking himself off.

Before too long, Colin complained that his jaw was hurting from all his hard work so Bobby suggested that it was time to give his jaw a rest. On his elbows and knees on the bed, Colin winced as Bobby worked his thick cock into Colin's ass. To help things along, Colin reached back and grabbed Bobby's dick, setting it on the right path to his ass. Instantly, Bobby was able to set a steady pace, moaning in delight as he fucked the tight ass. Colin leaned down further on the bed, groaning as Bobby thrust in and out of his ass. It wasn't clear if he was liking it or if he was feeling too much discomfort, however, when Colin reached back and pulled Bobby towards him so that he could get more dick up his ass, it became obvious exactly what he was feeling. 'I gotta get it!' muttered Colin, prompting Bobby to fuck him harder.

While Colin may have 'complained' that Bobby had a big dick, there was no doubt that he would complain more if Bobby stopped fucking him. When Bobby pulled out in order to swap into the spooning position, Colin had a very brief look of disappointment flash across his face, only to moan in delight when he directed Bobby's cock back into his straight boy ass. As Bobby fucked his ass hard and fast, Colin couldn't resist trying to pull Bobby even closer once again. Balls deep, Bobby was grinning ear to ear as he punished the tight ass. By now, both boys had worked up a heavy sweat from all their hard work, the sweat rolling down their chests. 'Turn me over, fuck the cum outta me!' demanded Colin as he rolled over onto his back. Bobby fucked his ass hard and fast, all the while, Colin tugged on his own cock. Crossing his legs, Colin pulled his legs in tight and drew Bobby in even closer.

Bobby was groaning from the feel of Colin's tight ass surrounding his cock and it was clear that he wasn't going to last much longer, likewise with Colin. His hand flying up and down his dick, Colin whispered that Bobby was gonna make him cum. At this, Bobby sped up but Colin wanted it harder so Bobby complied. Sure enough, Colin let off jets of cum as his ass was being pounded. Now, it was Bobby's turn. Standing on the bed next to Colin, Bobby wanked off hard, cum sprinkling down onto Colin's upper body.