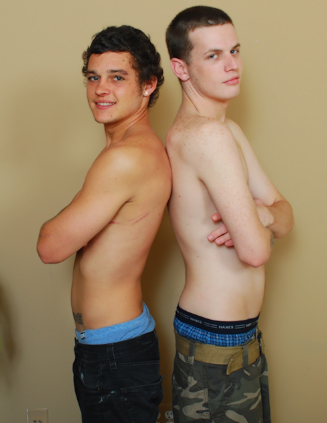 The ever popular Bobby is back in the studio, along with relative newbie Anthony. Like always, the two boys are broke, thus, they have found themselves back at Broke Straight Boys, however, the lack of available dosh certainly hasn't stopped them from enjoying some time on the beach. Both boys were eager to get things started so they stood up and stripped off naked before sitting back down and playing with their dicks. As Anthony got hard first, it was up to Bobby to show off his oral skills first. Leaning over, Bobby slid the hard cock into his straight boy mouth, slowly bobbing up and down. Almost right away, Anthony was moaning in pleasure as he leaned back and enjoyed the feel of Bobby's hot, wet mouth surrounding his dick. As he worked hard on Anthony, Bobby reached down and wrapped a hand around his own cock so that he could wank himself off.

From the blissed out look on Anthony's face, I just had to ask him how Bobby was doing, Anthony smiling and saying that Bobby was doing good, all the while, Bobby was leisurely fisting his dick. As Bobby came up for some much needed air, I suggested that he swallow Anthony's dick all the way down. With little hesitation, Bobby managed to swallow the whole of Anthony's long cock, however, immediately pulled off choking and coughing. Not at all put off, Bobby ventured to go nose deep again but like last time, gagged as the tip of Anthony's dick brushed the back of his throat. A few moments later and it was Bobby's turn to get blown. Anthony got down onto his knees in front of Bobby and started sucking on the thick cock. Back and forth, back and forth, Anthony bobbed as Bobby grinned down at him. Getting creative, Bobby held onto his dick and swirled it around Anthony's mouth, laughing as he did so before trying to help Anthony explore some deep throating , which only resulted in Anthony choking. However, like a true professional, Anthony went right back to sucking cock.

Licking up and down the long shaft and swirling his tongue around the very head of Bobby's cock, Anthony showed that he had paid attention during his previous scenes at BSB. In a surprise move, Bobby asked Anthony if he had ever been cock slapped, to which Anthony's obvious answer was 'no'. As such, Bobby grabbed his dick and gave Anthony a hard slap across the face with his cock. Wiping his face, Anthony went right back to sucking cock while Bobby stood with hands on hips, looking down at him. As Anthony came up for air, Bobby decided he was more than ready to get down to the main event so Anthony knelt on his hands and knees on the bed while Bobby stood behind him, slowly working his cock into Anthony's tight ass. It was mere moments before Bobby could start fucking Anthony in a steady pace. Pushing Anthony down further onto the bed, Bobby's hips snapped back and forth as he drove his cock in and out of Anthony's ass. Bobby, being cheeky, couldn't help but give Anthony a quick slap on the ass, his red hand print glowing against Anthony's pale skin.

It wasn't long before Bobby wanted to try something a little more advanced. Anthony lay down on his back and pulled his legs in tight to his chest while Bobby stood between his legs, facing the wall. In a completely different type of move, Bobby dipped his dick down into Anthony's ass before leaning forward and bracing himself against the mattress. It was obviously a challenging position but as Bobby is renowned for being flexible, he was able to fuck Anthony with relative ease. By this time, both boys were groaning in enjoyment even as they worked up a steady sweat. Even as Anthony gripped onto the mattress for support, Bobby couldn't help but gaze between his legs, watching as his dick slammed in and out of the tight ass. In the end, it proved too hard to continue as both Bobby's and Anthony's backs were getting sore so they switched to good old regular missionary. Thrusting right back in on the first go, Bobby set a cracking pace as he grabbed hold of Anthony's feet and held his legs apart. As Bobby fucked him like he was a man on a mission, Anthony wrapped a hand around his own cock and started stroking himself off.

Tugging hard on his dick, Anthony came first, cum spilling down his shaft, over his hand and onto his stomach. This was Bobby's cue to pull out, tear off the condom and start stripping his own dick even as he suggested that he try and cum in Anthony's mouth. It wasn't long before Bobby sprinkled cum all over Anthony's face, hitting his nose, mouth, cheeks and even his neck.