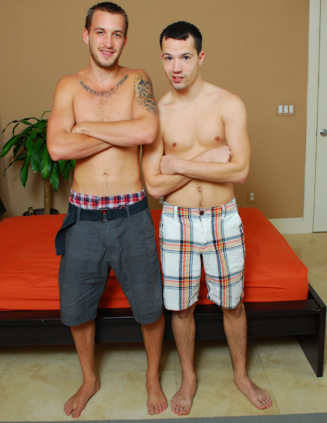 In the studio today, we have two hotties; Colin and Seth. Today, however, Colin is going to do something a little different; he's going to be topping Seth. Both boys were raring to go so they stood up and stripped off their clothes, throwing them down on the ground beside them. Sitting back down on the bed, Seth and Colin worked on each other's dicks with Seth kindly offering to lube up Colin's cock. It was obvious both boys were into each other as neither of them took long to get their cocks rock hard and as Colin said, he was 'good to go' in mere minutes. Colin stood up again while Seth slid down onto his knees in front of him, taking Colin's long dick into his straight boy mouth. As soon as Seth started sucking on Colin's dick, he had Colin panting for more. Colin had a tight grip on Seth's hair, gently helping him bob back and forth on his cock. Asking if Seth could go all the way down, Colin was impressed when Seth did indeed manage to take all of the hard cock down his throat. With Seth glancing up at Colin every now and again, Colin took the initiative and held onto Seth's jaw and started to gently face fuck him. Before too long, Colin started to get a little rough with Seth but like a complete pro, Seth just took it in his stride, adapting every time. Wrapping both arms around the back of Seth's head, Colin fucked Seth's face in earnest, all the while, Seth was tugging on his own hard cock. All too soon though, Colin had to return the favor.

After helping Seth stand up again, Colin got down on his knees and eagerly sucked the thick cock into his mouth. From the moment his cock met Colin's mouth, Seth looked like he as in heaven. As Colin pulled out his bag of tricks, Seth guided Colin back and forth on his dick. Like Seth, Colin couldn't help but look up at Seth a few times, just to gauge how he was doing. Licking the hard shaft, Colin got daring and sucked Seth's big balls into his mouth before sucking extra hard on the very tip of the cock and making Seth groan in pleasure. Holding himself still, Colin allowed Seth to slowly face fuck him but a particularly hard thrust on an odd angle caused Colin to pull off, choking. However, like a true professional, Colin instantly slid the cock between his lips again. In a more daring move, Colin deep throated Seth's thick dick. However, it was time for the main event. On his hands and knees on the bed, Seth waited patiently as Colin worked his cock into Seth's tight ass. As he slowly started to fuck Seth's ass, Colin couldn't help but comment on how tight Seth was which only made Seth grin. Colin's cock slipped out, so he had to start over but Seth didn't mind, instead, he grabbed hold of his own dick and started to jerk himself off. Once all the way in, Colin set a steady pace, much to Seth's pleasure. 'Like that?' demanded Colin as he pounded Seth's ass, Seth moaning that he did. Pushing Seth down further, Colin was proving he could top with the best of them as he drove in and out of Seth's ass. Seth was loving it so much, he even reached back and pulled Colin in closer.

'You're bringing the sweat out in me!' panted Colin, even as he gave Seth a hard slap on the ass. Colin was fucking Seth like there was no tomorrow, almost prison style, and both boys were sweating heavily from all their hard work. Suddenly, Colin pulled out, asking Seth if he was alright and apologising for the extra hard fucking but Seth said he was fine so they switched to a spoon position that would allow for a more sedate pace than previously. Still, even in this new position, Colin proved he was able to go hard even if it was at a slower pace, all the while, Seth was tugging at his own cock. Both boys were panting hard and it wasn't going to be long before one of them popped off. Obviously overcome by the charged emotions in the air, Colin, in a surprise move, leaned up and locked lips with Seth, both boys kissing passionately. Colin told Seth to cum while he was getting fucked, prompting Seth into wanking off furiously even as Colin rode his ass hard. 'Fuck me!' whispered Seth as he jerked off, Colin instantly complying and fucking Seth even harder. Seconds later, Seth shot his load over the bedsheet. Pulling out and kneeling next to Seth, Colin wrapped a hand around his own cock and jerked himself off, shooting Seth in the face with a long stream of cum.