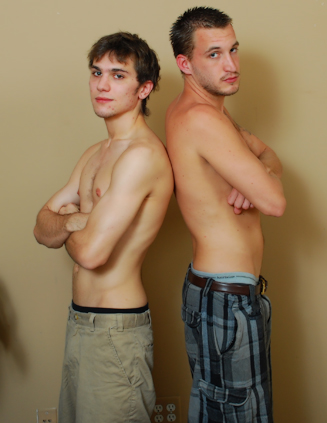 Today, we welcome back Rocco who is in the studio along with Colin. Last time we saw Rocco, he had shaved all his hair off but thankfully, it looks like it's growing back to it's usual thick and full style. As for Colin, inbetween this visit and the last, he has gone on a camping and fishing trip with his wife where they indulged in a lot of skinny dipping. The boys stood up and stripped off their t-shirts and shorts, getting themselves naked in record time. Rocco had obviously come prepared as even as he undressed, he was rock hard so I told Colin to get busy with a dick in his mouth as he worked on getting himself hard. Standing on the bed, Rocco moaned in delight as Colin slowly started sucking on his thick dick.

As Colin jerked himself off, Rocco took charge by placing a hand on top of Colin's head and gently face fucking him. Minutes later, Colin took back control by wrapping a hand around Rocco's cock and sucking on it at his leisure, breaking off every now and again to lick up and down the long shaft. There was no doubt that Rocco was enjoying the way Colin treated his dick like a favorite candy bar, both boys were panting hard. As Colin broke off for some much needed air, Rocco took the opportunity to resume thrusting his cock in and out of Colin's mouth, something that Colin was happy to let him do and even opened his mouth up wide so that Rocco could fuck his face easier. Now, it was Rocco's turn to wrap his lips around Colin's dick. Colin stayed on his knees but leaned back, thrusting his cock out, ready for Rocco to suck. Rocco sat down in front of Colin and leaned forward, letting the hard shaft slid into his straight boy mouth. Right away, Colin was in heaven as he enjoyed the feel of Rocco's mouth surrounding his dick and even rested a hand on the back of Rocco's neck to encourage him to go down further. As Rocco bobbed up and down, Colin took the initiative to do his own face fucking, Rocco holding his head still as Colin slowly thrust in and out. By now, both the boys had worked up a hard sweat, however, it was time for Colin to take Rocco's cock in another way.

Laying down on his stomach, Colin reached behind and pried his ass cheeks apart so that he could flash his ass hole to the camera at my request while Rocco lubed himself up. Once ready, Rocco knelt on either side of Colin's spread legs and worked his cock into Colin's tight ass. Soon enough, Colin was being fucked at a steady pace by Rocco. Colin was panting in pleasure as Rocco rode his ass and it was clear that all the extra play time Colin was indulging in with his wife was paying off. As Rocco picked up the pace, Colin grasped onto Rocco's wrists and spread his legs just a little wider. Both boys were having too much fun in the fucking and it was with some reluctance that Rocco initiated a position switch. Colin flipped over onto his back, his legs lifted up and crossed in front of him while Rocco slid right back in. Wrapping a hand around his dick, Colin tossed himself off as Rocco steadily rocked back and forth, picking up the pace almost immediately. With his legs crossed in front of him, Colin wasn't feeling the whole effect of Rocco's dick inside of him so he let his legs fall wide apart so that Rocco could fuck him properly. And indeed, Colin was suddenly feeling every inch of Rocco's long dick, so much so, that Colin had to grip onto the mattress for support. It wasn't going to be long until one of the boys burst their dams, with the other one following closely behind. Pulling out, Rocco tore off the condom and started to jerk himself off until his own cum was decorating Colin's skin.

Rocco leaned back so that he was shallow fucking Colin's tight ass, even as Colin crossed his legs in front of himself again in the hopes that he didn't come too quickly. However, both boys were dripping in sweat so the end was near. Colin was loving the cock so much, he even asked Rocco if it was all the way in and when Rocco said it wasn't, he told Rocco to shove it all the way in. Happy to oblige, Rocco fucked the straight boy ass furiously even as Colin kept tugging on his own cock and groaning in pleasure. Flinging his legs out wide, Colin moaned that Rocco was going to make him cum and demanded that Rocco choke him. Pressing down on Colin's throat, Rocco continued to pump his dick in and out of Colin's ass. Mere seconds later, Colin sprayed cum up onto his stomach and lower chest.