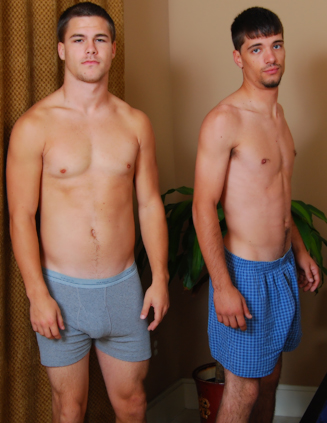 Two of the hottest boys, Jimmy and Darren, are in bed together in this sizzling scene. Today, the boys will be going all the way, with Darren's well formed ass being fucked by Jimmy. As Darren is well known for having a nice butt, I got him to stand up, turn around and pull down his shorts so he could show off his ass. As he did so, Jimmy, being his usual naughty self, couldn't help but give one ass cheek a soft slap. Both Darren and Jimmy were anxious to get the show on the road so with little preamble, the two of them stood up and stripped off naked. Standing side by side, Darren and Jimmy wrapped a hand around their cocks and started to jerk off while watching some straight porn. Mere minutes later, both Darren and Jimmy had cocks that were standing proud.

As Jimmy was going to be the one giving it to Darren later on in the scene, Darren decided to bite the bullet and drop down onto his knees in front of Jimmy in order to get Jimmy's dick all wet. With a firm grip on his own dick, Darren slid the thick shaft inbetween his lips and set about showing Jimmy why he is one of the best cock suckers on Broke Straight Boys. Darren bobbed up and down, breaking off every now and again to trace his tongue around the head of the big dick. There was no doubt that Jimmy was enjoying the feel of Darren's hot, wet mouth surrounding his dick and even pushed down on Darren's head in order encourage Darren to go down deeper. Sure enough, Darren happily obliged by doing some deep throating before popping back up for some much needed air. However, before he could go back down, Jimmy was more than ready to dive deep into Darren's ass while Darren was as ready as he was ever going to be.

Darren helpfully put the condom onto Jimmy's thick cock by putting it in his mouth and sliding it all the way down. It was obvious that Jimmy was pretty impressed by Darren's trick as he was grinning madly even as he scrambled onto the bed behind Darren, slicking up his dick. Slowly but surely, Jimmy worked his big cock into Darren's tight ass, Darren groaning in discomfort on each thrust. With short, sharp jabs, Jimmy continued to work at loosening up Darren's ass. Grabbing hold of Darren's shoulder, Jimmy held on as he was able to slide his dick all the way home and really start to fucking Darren. Lowering his leg, Darren quickly found himself clinging to the bed as Jimmy rammed his dick in hard and rode him like a bronco. However, Darren couldn't help but smile cheekily at his rough treatment, obviously not adverse to it, and even gave Jimmy a slap on the ass as a reward. With the bed creaking noisily as the boys fucked onto of it, Jimmy was going all out on Darren's ass but Darren only encouraged him to go harder.

Switching things up, Darren decided it was time to ride the pole. In a fancy move, Darren swung over on top of Jimmy while Jimmy's dick was still deep inside of him. It obviously wasn't the easiest choice on his ass as Darren was puffing and panting as he waited out the sudden jab of pain the move cost him. However, like the pro he was, Darren quickly adapted as he began to slowly bounce up and down on Jimmy's thick cock. Holding himself still, Darren moaned as Jimmy took over the hard work and thrust up into Darren's ass. At one point, Jimmy's cock slipped out but Darren just maneuvered it back inside of him. By now, both boys had managed to work up a heavy sweat, with perspiration dripping from both of their brows. Once again changing positions, Darren lay down on his back, legs spread wide as Jimmy knelt between them and slammed his dick back in. Holding his dick out of the way, Darren was almost out of breathe as he gasped and groaned. There was no doubt that he was feeling very inch of Jimmy's big dick.

It was clear that the boys were getting close to cumming but as Darren worked on getting his cock hard, it was a sure bet he was going to pop first. Putting in some hard wrist action, Darren, even as he was still getting fucked, shot cum over his stomach and into his belly button. Now, it was Jimmy's turn to show us what he had. Pulling out and kneeling next to Darren, Jimmy wanked himself off hard before liberally dousing Darren's stomach, side and even his arm in cum.