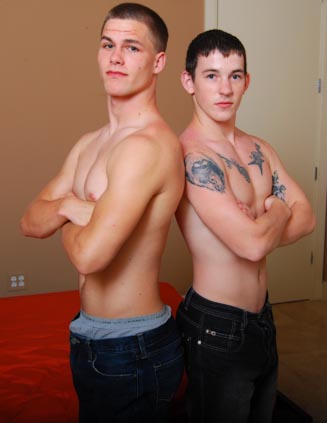 Mick and Jimmy are on the bed today and they are going to be indulging in a very hot scene. As both boys were raring to go, I got them to strip off, Mick describing what his numerous tattoos represented as he sat back down on the bed while Jimmy just listened. Even though Mick's cock was already half hard, Jimmy put in some serious wrist action to catch up to him but before long, Mick was rock hard. Due to Mick being ready first, I told Jimmy to go down on him as he still needed some practice sucking cock. As Mick held his cock straight, Jimmy was clearly intimidated by the size of it, especially since it would be only his second time with a cock in his mouth.

Leaning back on his elbows, Mick had a glazed look in his eyes as Jimmy slowly bobbed up and down on his dick. Despite Jimmy being an ultra straight guy and hating the taste of cock, he was determined to do his best. Not used to giving blow jobs, Jimmy's jaw was soon tired and instead, he spat in his hand and started to jerk Mick off. After a quick breather, Jimmy went back down on Mick and got re-acquainted with the taste of cock. Mick was enjoying the blowjob so much, he decided to return the favour by pumping Jimmy's dick. The positioning was somewhat awkward but both boys made it work.

Once Jimmy was hard enough, it was Mick's turn to show off his oral skills. There was a stark difference between the two boys styles; Jimmy's nervous swallows compared to Mick's self assured deep throating. It was obvious that Mick was the more experienced of the two as he almost immediately went down deep, something that had Jimmy panting in pleasure. As Mick kept going down as far as possible, Jimmy admitted that Mick was good. Mick was more daring than Jimmy, constantly pushing himself to go deep throat more and more each time and to hold the dick in the back of his throat for longer.

Finally, both boys were ready to get to the main event. With a skilled hand, Mick rolled a condom onto Jimmy's dick. With lubed applied, Mick and Jimmy got into position; Mick on his hands and knees on the bed and Jimmy standing behind him. Jimmy's dick slid into Mick's straight boy ass in a couple of long, slow thrusts but Jimmy was immediately able to get a fast rhythm going as he banged Mick's ass. Mick, one of the noisier boys on BSB when getting fucked, was soon grunting on each hard thrust while Jimmy quickly worked up a sweat.

Flipping Mick over onto his back, Jimmy slide back in in one slow motion before he riding Mick's ass hard. Mick was getting so into the feel of a cock all the way up his ass, he reached around and pulled his ass cheeks apart so that Jimmy could work his cock in even further. As Mick moaned in pleasure, he wrapped a hand around his dick and started jerking himself off. Suddenly, Jimmy's cock slipped out but that didn't phase him, instead, he pulled Mick closer to him and slammed back in and kept fucking. As he wanked himself off at a furious pace, Mick announced he was about to cum and sure enough, his stomach was soon coated in cum. Now it was Jimmy's turn. Tearing off the condom, Jimmy knelt up beside Mick and tugged on his dick, cum raining down on Mick's chest and stomach.