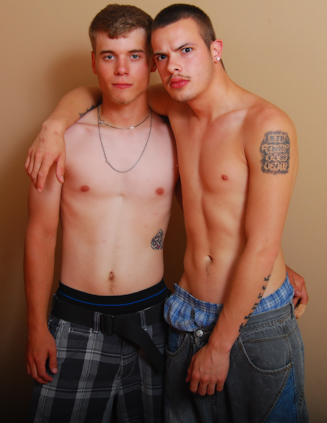 Jack and Jamie are in the studio today and as always, they are in desperate need of some quick and easy cash. Jamie is broke from paying bills while Jack's girlfriend is suing him for child support. When Jack called up to ask if there were any shoots coming up, I told him that the only one available was if he took a dick up the ass. While Jack wasn't too happy about the idea, the overwhelming need for dosh soon changed his mind. Jack and Jamie had already done a scene together before so I knew that they would be able to take a few new things in stride such as some dildo play. The boys stood up and quickly stripped off their clothes, throwing them all over the floor before sitting next to each other on the bed and jerking themselves off to some straight porn in order to get hard.

It only took Jamie a few minutes of intense porn gazing before his dick was pointing at the ceiling, Jack only a few moments after him. As Jamie was hard first, Jack and Jamie swapped places, Jack leaning down and sliding Jamie's cock into his straight boy mouth. Right away, it was clear that Jack had improved at cock sucking since the last time he was in the studio. With a hand on Jack's head, Jamie closed his eyes and tilted his head back, obviously enjoying Jack's efforts. Jack bobbed up and down, experimenting with a few deep throating motions and even licking Jamie's balls every now and again. Jamie was getting right into the blowjob, so much so, he graciously reached over and started fisting Jack's dick. Jamie, in an aggressive move, held Jack's head in one place while he thrust up into his mouth, hard and fast. As I came around behind Jack with the camera to get a close up of Jack's well rounded ass, Jamie gave Jack's butt a few hard slaps and agreed it was time to break out the dildo.

Sweating from all his hard work, Jack said he was as ready as he was ever going to be. On his hands and knees, Jack played with his cock in order to take his mind off what Jamie was doing to him; slowly working a dildo into his tight ass. Jack gritted his teeth as he felt the toy working it's way up his ass, guided by Jamie's steady hands. As Jamie concentrated on his task, he grabbed his own dick and started to jerk himself off while Jack admitted that the dildo didn't feel anything like he expected it to. Another few minutes and Jack said he was ready to get fucked for real. The boys quickly moved into position; Jack laying on his side, top leg up in the air as Jamie spooned behind him and gently thrust into Jack's once virgin ass.

Jamie held Jack's leg up as started to fuck Jack in a slow but steady pace. Even though the dildo had loosened Jack up, Jack was still feeling some discomfort as Jamie fucked him. Soon enough though, Jamie sped up, thrusting in hard and fast even as Jack moaned on each thrust. Jamie shifted around, holding himself up on one arm as he sought a better angle for his dick to slide in and out of the tight ass. As he rode Jack's ass hard, I asked Jamie how it felt, Jamie replying that it felt like 'nice, tight virgin ass!' By this stage, Jack was feeling the strain and was obviously still in discomfort but nonetheless, Jack had a grin for Jamie when Jamie said he was taking it like a champ. In the hopes of making it easier, Jack flipped over onto his back, kneeling in between Jack's legs and thrusting right back in. Both Jack and Jamie were dripping with sweat as they kept fucking, Jack groaning loudly each time Jamie slammed back into him while Jamie was panting from all his hard work.

As Jamie rode him hard, Jack reached down and started jerking himself off. It wouldn't be long before both boys shot their loads but who was going to go first? Suddenly, without a word, Jack shot all over himself, cum dribbling onto his stomach and down his sides. Jamie was almost there himself so he pulled out and started fisting his dick, all the while, Jack kept stroking his shaft as he tried for a second cum shot. A minute or two later, Jamie announced he was ready to blow and shifted closer to Jack, liberally sprinkling his torso with cum.