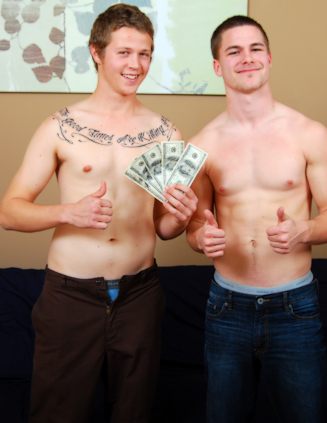 On the futon today are Jimmy and Zach, who are here to do an anal scene, with Zach taking Jimmy's dick. Jimmy and Zach are totally broke and are in need of some quick cash, hence, their interest in doing today's scene. Both boys stood up and quickly stripped off naked, Jimmy admitting that he had never fucked another guy before even though Zach had taken a dick in a previous shoot. Sitting back down on the futon, Jimmy and Zach wanked off as they watched the straight porn, in an effort to get hard.

As they jerked off, Jimmy talked about the only way he would consider rimming a guy would be if he got paid $10,000, even though he had rimmed girls before. I even handed Jimmy about $500 in cash, telling him he could keep it if he licked Zach's ass but Jimmy wasn't interested and instead, threw the money on the floor. Even with all the chitchat, it didn't take the boys long to get rock hard dicks so I got Zach to get Jimmy ultra hard. Jimmy stood up, Zach sliding to his knees in front of him and swallowing down the thick cock. Despite only having sucked cock once or twice before, Zach had obviously been paying attention as he was handling the blow job just nicely. So much so, that Jimmy said Zach was the best so far.

After a few minutes, I got the boys to sit down again, Zach wanking off even as Jimmy said he was ready to go. As they sat, Jimmy revealed a hidden talent; his cock was one hell of a twitcher, something that Zach couldn't keep his eyes off. Finally, Zach was ready to get fucked up the ass. Kneeling on the futon, Zach raised his ass in the air as he waited for Jimmy to thrust into him. Jimmy, all prepped and lubed up, slowly slid his cock into Zach's tight ass. Zach, gasping as he felt the dick deep inside of him, jerked himself off as he tried to get used to the feel of a dick up his ass. From the expression on Zach's face, it looked as though he wasn't sure if he was feeling, pleasure, pain or the sweet combination of both. Jimmy set a steady but gently pace, fucking Zach's ass as he watched the porn.

Switching it up, Zach flipped over onto his back, Jimmy thrusting right back into him. As he held Zach's legs apart, Jimmy was able to go deeper and harder even as Zach jerked on his own rock hard dick. Speeding up, Jimmy was riding Zach's ass hard, all the while, Zach was panting and moaning on each thrust. Jimmy's dick slipped out but he instantly slammed right back in, Zach groaning as he felt the hard thrust through his entire body. Wanking off at a fast and furious pace, Zach was moments away from climaxing when Jimmy matched his pace, brutally fucking Zach's ass. Suddenly, without warning, Zach gasped as he shot, cum spurting onto his stomach and thighs.

Zach lay on the futon, exhausted by his hard workout as Jimmy tore off the condom and took his own dick in hand, putting in some hard wrist action as he worked towards cumming. Moments later, Jimmy's cum sprayed over Zach's chest and stomach, mixing in with Zach's own cum. Both boys were tired, however, Zach said being fucked wasn't so bad and it looked like he wasn't going to say no if I asked him to bottom again in the future while with Jimmy, even though he didn't admit to liking fucking another guy, I say to watch out for him in the updates and check out what he does.