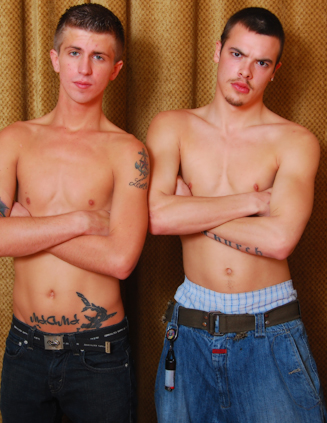 Broke Straight Boys is pleased to welcome back hot favourite, Jamie, while introducing Tony. Jamie and Tony work together at a cell phone shop but as Jamie is still pretty broke, he knows he needs to pull out the big guns at BSB to earn any more cash, thus, the reason he has brought Tony into the studio today. Tony has just been fired from his day job, and like Jamie, is in need of some easy cash, however, he thinks he is here just for a dual jerk off session for $200 while Jamie has already said that he will be fucking Tony up the ass.

I told the boys to get undressed; Tony, who had cropped dark blonde hair and blue eyes, stripped off his clothes, revealing a lean but muscular build that was decorated with a few tattoos while Jamie did the same. The two boys sat side by side on the bed, lubing up and playing with their cocks as they worked on getting hard. As they jacked off, Jamie told Tony that he could make more money by sucking cock, Tony immediately asked how much more before Jamie dropped his bombshell and said that if Tony took a dick, the money would probably be enough to pay his rent for a month and a half. Tony took only a second or two to think about it and even though he was a cock virgin, he was desperate enough to agree an additional $725 in order to get fucked by Jamie.

Jamie reached over and took control of Tony's dick, slowly jerking himself and Tony off even as Tony couldn't help but stare at Jamie's hand sliding up and down his cock shaft. After a few minutes, Tony started returning the favour, taking Jamie's cock in hand and tentatively going about giving his first hand job to another guy. As the boys were hard at work, I asked them if they had ever kissed another guy, both saying no before I told them that if they kissed for 3 minutes with tongue, I would give them $50 each. Right away, Jamie wasn't impressed with the idea while Tony was quieter but actually looked interested in trying it. Still, even as Jamie asked Tony if he was game, Tony was leaning down towards him, clearly more than ready, the boys locked lips, passionately kissing each other even as they continued to wank off.

Jamie sat up against the bedhead, Tony leaning over and hesitantly tasting his first cock. Tony, saying that the lube tasted like shit, nonetheless went right back to work,. Jamie even saying that Tony was pretty good at giving head for his first time. As Tony slowly bobbed up and down over his cock, Jamie reached around and jerked him off. Tony, at my request, showed just how much of the thick cock he could swallow and while it wasn't much, Tony was such a natural, he didn't even choke even as Jamie gently pressed down on the back of his head.

Finally, it was time to get down to the fucking. Handing Jamie a condom, Tony slicked himself up then got down on his hands and knees while Jamie stood behind him. In short and sharp thrusts, Jamie slowly worked his way into Tony's ass. Tony barely made a sound as Jamie got a steady rhythm going so I had to tell the boys that it was ok to make some noise if they wanted to. As Jamie fucked Tony's ass harder and faster, Tony reached around and pulled his ass cheeks apart, showing off just how smoothly Jamie's fat cock slid in and out of his ass. Tony flipped over onto his back, Jamie immediately thrusting in hard even as he held Tony's legs apart. This position was obviously better for Tony as he finally let some enjoyment show on his face as he moaned on each thrust. Both boys were working up a sweat as Tony started jerking himself off even as Jamie was pounding his ass hard.

It didn't take long for Tony's cock to get rock hard again and surprisingly, it was only moments later that Tony shot all over himself, cum covering his chest, stomach and ribs. As it was clear Jamie wasn't too far behind him, I told him to pull out and finish off. Ripping of the condom, Jamie pumped his cock furiously as he chased an orgasm and without warning, cum sprinkled over Tony's cock and pubes.