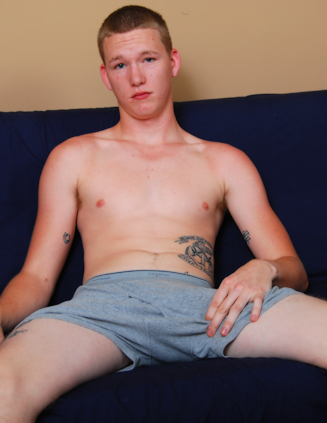 I was out and about in the park, looking for some hot straighties who wanted to earn some extra dosh when I stumbled across CJ, a tall blue eyed blond. He was an Arts major at the University of Florida who was down by the river, trying to work on some drawings he was doing. CJ also showed me some of the watercolour art he had for sale in his portfolio. As we chatted, the 19 year old ended up selling me one of the pictures he had done and I asked him to help me out by letting me film him doing some pull ups. CJ was happy to help so we walked over to the pull up bars where he took off his grey t-shirt, revealing a slim but toned upper body that was decorated with a large tattoo on his left hand side along with a few smaller ones.

Grabbing the bars, CJ pulled himself up and showed off how fit he was by doing a few repetitions. Once done, we walked back to where he had left his portfolio and pencils, talking about how he owed almost $400 in back rent and how he sometimes got one off jobs from Craigs List. As he was clearly broke, I told him that I would pay him $50 if he showed off his dick right then. CJ was taken aback by the suggestion, however, as he needed the cash, he undid his belt and pulled out his soft cock and balls. Even though he was embarrassed, he was grateful for the extra money. I then said that I would pay him $100 if he came back to the studio and jerked off on camera. It didn't take CJ long to think about it and say yes.

Once back at the studio, CJ sat down for a moment before he stood up and stripped off naked, turning around and flexing his muscles so that the Broke Straight Boys members got a better look at his well rounded ass. Sitting back down, with his legs spread wide, CJ played with his cock in order to start getting hard. As he tugged on his dick, his balls bouncing up and down, CJ took off his dog tags and watch. The closer he got to being fully erect, the more CJ moaned in pleasure. Standing up and turning to the side, CJ's hand flew back and forth along his hard cock shaft. As he was doing so well, I asked him to bend over and show off his ass hole but CJ wasn't up for it at all, infact, he quickly pulled on his grey boxers and told me to take him back to the park.

Saying he wasn't gay, CJ wasn't interested until I handed him $300 in cash. As he counted out the money, CJ decided that he could do it as his rent was due in a few days and he was totally broke. He pulled off his boxers again, turned around and knelt on the futon, legs spread so that his hole could be seen as he leaned forward. Spreading his ass cheeks, CJ gave his butt a hard slap. CJ picked up the money and spread his cheeks again, saying, "I'll do almost anything for money!" Since the experience wasn't as bad as he had thought it was going to be, CJ laughed as he confirmed that he was still an ass virgin. Sitting down and facing the camera, CJ went back to jerking himself off, only taking a few moments before he was rock hard again. He had such a nice looking dick, I couldn't help but go in for a close up of it.

CJ, as he was putting in some hard wrist action, put his foot up on the futon and spread his ass cheek, showing off his hole again. Massaging his balls, CJ stroked himself in a stead pace even as he kept moaning 'oh yeah!' to himself as he got closer to cumming. Soon enough, CJ shot his load all over his stomach and pubes before the cum dribbled down his shaft. For an extra $50, CJ put a dollop of cum in his mouth and poked out his tongue so that the cum could be seen spread over his tongue. CJ did really well for a straight boy and as he is broke, he should be back in the future so make sure you watch out for him in the updates!