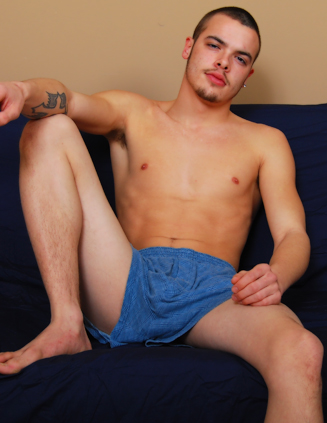 Today, Broke Straight Boys is pleased to introduce Jamie, who could almost be original Aiden's twin. Although he is somewhat nervous, Jamie is here to do a solo jerk off scene. As Jamie is homeless and has been working as a sign flipper for minimum wage, he is desperate for a way to make some extra cash. He's already made $70 just by flashing his dick off camera so he was curious to know what he would have to do to make more money. I could see that he was quite apprehensive about being in a room with a guy he barely knew but I told him that today, he would only be jerking off in front of the camera for an extra $100.

Jamie seemed down with that, especially when I handed him the $100 note. In order for him to feel a bit more relaxed, Jamie and I chatted about the girls he has been with and what he's done with them. He revealed a preference for older women even though he was only 19 years old himself. Standing up, Jamie took off his t-shirt, showing off his very buff upper body. as well as the tattoos on his forearms; the last name of a friend who passed away and a large cross on the other forearm. He also had a large tattoo of his family crest on his back, between his shoulder blades. Surprisngly, Jamie felt comfortable enough to say that he had a son and most of his money from the sign flipping job went on child support, hence, him being homeless. Taking off his jeans and loose boxers, Jamie also had very toned and muscular legs, not to mention, a pair of well formed ass cheeks.

His ass was so nice, I got him to bend forward and spread his legs so that the BSB members could take a closer look at this straight boys ass. Sitting down, Jamie grabbed hold of his cock and started fisting it, breaking off for a moment to dribble some slick down his shaft before putting in some hard wrist action as he watched the straight porn playing. Jamie set a steady pace as he slid his fist up and down his cock shaft, all the while, cupping and rolling his balls with his other hand. I told him to say 'I love jerking off!', which, with a laugh, Jamie did. Standing up, I got Jamie to stop jerking off for a moment so that I could get a better shot of his long dick before he took his cock in hand again. His hand flying back and forth, Jamie knelt on the futon, his ass facing the camera as he pushed his dick back so that I could see him tugging on it better.

I told Jamie to look at the camera and not be so shy and with a laugh, he said things had gone too far for him to even consider being shy. Still, he looked directly at the camera as he kept fisting his cock. As I panned the camera around to take another close up of Jamie's ass, he leaned forward and spread his cheeks before turning around and sitting down properly. He picked up the pace as he got closer to cumming, his breathing turning into sharp pants. Place both feet on the futon and spreading his knees wide, Jamie watched the porn as he chased an orgasm. Soon enough, with his toes curling in expectation, Jamie shot high into the air, hitting himself over the chest, stomach and even his upper arm and couch. I offered Jamie another $100 for him to taste his own cum and with no hesitation at all, he put not one.. not two.. but three gobs of cum onto his tongue, happily showing it off for the camera. All in all, Jamie did a great job in his solo scene so look out for him in the updates!