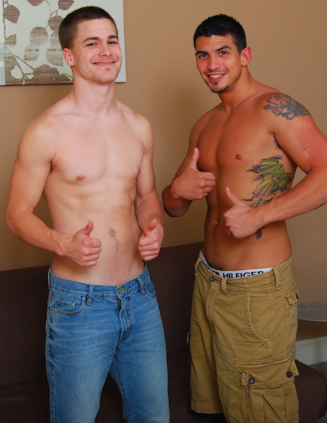 At Broke Straight Boys, we are proud to bring the members something a little different;Jimmy and Vinnie are going to indulge in some foot fucking for $400 each. While neither of them have done anything like this before, the lure of easy money was too much to resist. Standing up, both boys stripped right down naked, Jimmy showing off his feet as he did so. As Jimmy and Vinnie continued standing, both boys worked on their cocks in order to get hard. Watching some straight porn playing on the tv, it wasn't long before Jimmy was rock hard, obviously fairly keen to get into some foot fucking while it looked like Vinnie wasn't too far behind him.

Finally, both boys were ready to get the party started. Jimmy lay down on the futon, his feet hanging off the end while Vinnie lubed up his dick. As Vinnie slicked up his cock and wanked off to full hardness, Jimmy waggled his feet in front of the camera, showing off how pretty they were. Once Vinnie was ready, he grasped both of Jimmy's feet and held them close together, sliding his cock in and out from in between them. Unused to this type of fucking, Vinnie experimented with how to stand and if he should wank off at the same time, all the while, Jimmy watched the porn and jerked himself off. As Vinnie thrust back and forth, rubbing the tip of his dick with one hand, Jimmy said it all felt a bit like he was getting a foot massage.

All of a sudden, Vinnie picked up the pace, sawing to and fro between the instep of Jimmy's feet. A few moments later, he asked if I wanted him to cum, just as cum dripped from the tip of his cock. Jimmy wrenched his feet away as Vinnie climaxed, grinning broadly as the cum dribbled between his fingers. Now it was Jimmy's turn to do the deed, however, while he had doubts he would be able to fuck Vinnie's feet, $400 was too much to turn down. Slicking up his cock, Jimmy worked on his hardon while Vinnie moved into position on the futon. Jimmy had Vinnie cracking up in laughter when he insisted that Vinnie even lube up his own feet, complaining that Vinnie's looked rough.

Once hard enough, Jimmy grabbed Vinnie's feet and held them in position while he quickly thrust back and forth between them, even as Vinnie grinned and watched intently. As he fucked Vinnie's feet, Jimmy remarked that his feet were 'so loose', Jimmy wasn't sure he was going to be able to climax from it all. Still, Jimmy pumped away, switching up his style every minute or so from hard and fast to long and slow, Vinnie lying on the futon and smiling broadly as he discovered that he may have found a new kink. Eventually, Jimmy alternated between fisting his dick and lazily thrusting back and forth as he got closer to cumming while Vinnie held his feet still.

When Jimmy started wanking off with his unique double handed approach, it was clear that he was almost ready to cum and sure enough, without a word to Vinnie, who quickly sprang out of the way, Jimmy spurted over the studio floor. Both boys did a great job and handled the foot fucking well, especially Vinnie who is definitely going to go home and practice it some more!