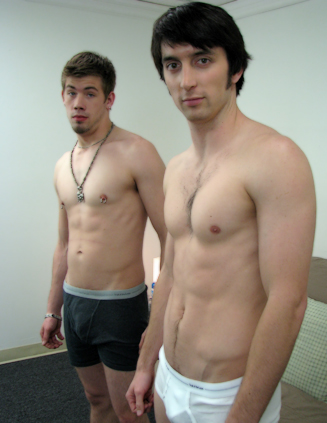 In the Broke Straight Boys studio today, I had brought in Jeremy and Braden to work together. So far, they have refused to do anything together as they are best friends outside the studio. I asked them to consider doing an oral scene but even as they both protested that they were friends, I could see that they were at least thinking about it. I offered them $800 and then $1000, to do the oral shoot but they shot me down as both were worried about the repercussions it may cause. I decided to leave the room and let Braden and Jeremy discuss it between themselves.

The boys did end up deciding to go ahead with the oral scene but wanted more money. I came back into the room and Braden told me their decision, while also saying that they wanted $1100 to do it, to which I agreed. I told them, that for $1100, they had to put on a good show. Finally, both boys were ready to get things going so they stood up and stripped off their t-shirts and jeans. They sat on the futon, clad only in their underwear, hands playing with their cocks as they watched the straight porn.

Braden was rock hard only a few minutes into fisting his cock so he took off his undies and threw them to the side while Jeremy did the same. I told them to jerk each other off so they could get used to the feel of a best friend's dick in their hand. With some reluctance, Braden and Jeremy grasped each others cock and started jerking away. After a few minutes, I asked who was going to suck cock first, Braden nominating Jeremy to start off. Jeremy, with a bare hint of hesitation, leaned over and swallowed down Braden's huge cock. Even though Jeremy stated that it felt weird to be sucking his friends cock, nonetheless, he kept sucking on the dick. Jeremy didn't have any fancy moves but he had set a steady pace and was doing well enough to keep Braden's cock rock hard. Eyes closed, Jeremy angled his head this way and that, all the while, he bobbed up and down over the long shaft.

Braden thought it was time to swap over but Jeremy wanted to keep going so Braden relaxed back into the futon and watched Jeremy hard at work. After only a few minutes more of Jeremy sucking on his cock, Braden wanted to get his turn over and done with so Jeremy broke off and sat back. However, Jeremy had gone soft during the blowjob and Braden was putting up a fuss about having to get Jeremy hard. Still, Braden put the cock into his straight boy mouth and started working overtime to get Jeremy hard. Like Jeremy, Braden had no special skills when giving head but he was putting in some hard work as Jeremy's cock started to harden. His jaw hurting after only a few minutes of effort, Braden broke off and sat back, complaining it felt weird. I asked him if that was all we were going to get for $1100 and told him to lick Jeremy's balls. However, we couldn't help but break up laughing when Braden whined that they were salty!

Braden went back to blowing his best friend, alternately sucking on the hard cock and giving the shaft a few pumps. However, Braden couldn't get past the fact that Jeremy was his friend, even when he broke off again. Jeremy went to go back down on Braden but Braden didn't want that to happen and instead, wanted to just wank off next to each other but Braden had lost his hard on so in the end, Jeremy sucked down his cock again. Even though he looked like he was fighting it, Braden was getting turned on by Jeremy sucking on his cock as he was starting to pant and he was breathing heavily. Once again, Braden found he was uncomfortable with his friend giving him a blowjob so he suggested that they just wank off and cum.

Offering Jeremy the lube, Braden licked his hand and started jerking himself off while Jeremy sat beside him and did the same. Surprisingly, Braden was ready to shoot almost instantly, cum dribbling down his shaft and hand. Jeremy wasn't too far behind him as only a few minutes later, he shot all over his stomach and pubes. Despite Braden's bitching and Jeremy's concerns about doing a scene with his friend, both boys did a great shoot and I'm wondering what I can get them to do next!