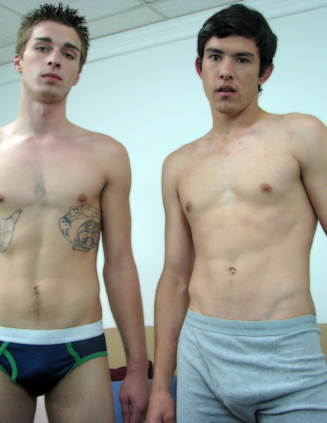 In the Broke Straight Boys studio today, we have Ashton and David. They are here to do an anal scene, with Ashton introducing David to the joys of gay sex. As Ashton and David sat on the futon chatting, along with myself, I could see that they would get along well and make a really hot video. Although I wanted to see David bottom for the first time, Ashton has issues with getting hard enough to top in a scene, therefore, he would be bottoming for David today. As Ashton explained it, although he is bisexual, he just doesn't get turned on by another's guys ass and instead, prefers to take cock instead of give it.

David was happy with $1000 to top while Ashton would be getting the standard $1500 to bottom. As David stood up to get undressed, I offered them extra if they kissed but both objected to it, saying it wasn't their thing. Ashton got to his feet, both boys stripping off to their underwear, Ashton turning around and flashing his ass to the camera in his new undies when he decided to show all the members how the inbuilt cock ring worked, all the while jiggling his crotch at the camera. As I went to go put on the straight porn, it was decided that Ashton was going to suck cock first. So, with that, the boys took off their underwear and threw them to the side.

Leaning over, Ashton took David's cock into his mouth. His head bobbing up and down over David's dick, Ashton put his skills to use and it wasn't long before David was as hard as a rock. David kept peeking down at Ashton even as he was panting heavily. Going deep, Ashton gagged but went right back to working hard on David's cock. They swapped, Ashton leaning back into the futon while David swallowed down Ashton's dick. This was only David's second time sucking cock, however, he was doing pretty well as Ashton quickly got hard for him. David set a slow but steady pace as he blew Ashton, all the while, Ashton was moaning for more. Like Ashton, David went down too far and gagged for his efforts but quickly resumed sucking cock. Ashton was astonished when David deep throated him a few times in quick succession, gagging again brought tears to David's eyes.

Finally, it was time to fuck. With the futon opened out, both boys got themselves prepared and lubed up, Ashton falling over onto the futon as he attempted to show the camera his ass. Ashton liked the look of David's ass, encouraging us to get a close up of it, both he and Eddie slapping David's ass cheeks a few times. Even though David admitted he was nervous about fucking a guy for the first time, outwardly, he was very stoic. With Ashton on his knees and elbows on the futon, David knelt behind him and lined up his cock to Ashton's ass. David had a little trouble getting in, however, Ashton helped to guide him to the right place. In long and slow strokes, David started loosening up Ashton, even as Ashton grunted on each thrust.

David obviously liked to set a sedate pace, something he may be used to at home but I had to give him a hit to speed it up and start fucking Ashton like a guy. Sure enough, he started banging Ashton hard, making Ashton moan all the more. They flipped to Ashton on his back, David kneeling between Ashton's spread legs. Thrusting into Ashton slow but hard, David quickly picked up the pace, punishing Ashton's ass until Ashton called out for more lube. A dollop of lube and the action was back on with David setting a hard pace. His cock slipped out for a moment but David thrust back in again, immediately settling back into making Ashton pant like a bitch. As we all know, Ashton likes to get fucked hard and David was certainly up for the challenge. He was soon fucking Ashton like a machine; hard, fast and without mercy.

Pounding into Ashton, David kept up the brutal pace even as Ashton pulled him in closer and begged for more. Suddenly, David pulled out and spurted cum all over Ashton's cock and pubes, Ashton only moments after him, cum spilling over onto his hip and stomach. I joked to David that the new boy had to lick cum off his partner, however, while David was having none of that, Ashton sucked the cum off his thumb. Ashton will be back in the studio in the future and who knows, next time we may be able to get David to bottom for another model?