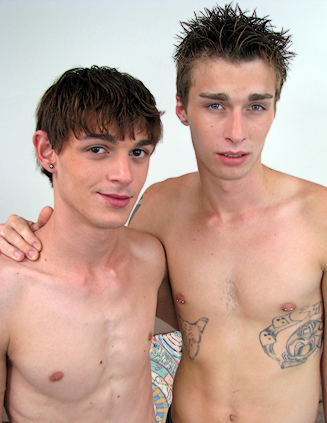 Rex and Ashton are back in the studio today to do their anal scene. Like always, Ashton is his usual crazy self while Rex is more reserved, however, the boys are getting along well which bodes well for a great shoot. During our pre-fuck chat, Ashton talked about a hemaphrodite he had been communicating with and how he was supposed to go up and see her but hadn't yet bought the ticket while Rex said although his girlfriend wasn't happy with him shooting gay porn, she didn't have an issue when it comes to spending the money he earned with doing it. Somehow, the conversation meandered onto how the police got tough on Ashton, hence, him being so tired today. Eventually, the boys agreed on $1200 for Ashton to bottom and $1000 for Rex to top.

It was time to get things rolling so the boys stood up and stripped off naked. Despite Rex being naked in front of the camera's a few times before today, suddenly, Rex's extremely low hanging balls were all the camera could focus on. To be frank, Rex has the privilege of having the lowest hanging balls Broke Straight Boy's has ever had. I had to get Rex to pull his dick up so that the BSB members could get a better look at his impressive balls and being a good sport, he even tucked them between his legs, his balls clearly being able to be seen from the back, prompting Ashton into a fit of the giggles. Sucking cock first, Rex swallowed down Ashton's cock without any problems even deep throating the steadily hardening shaft. Rex circled his tongue around the head of Ashton's cock, wringing a loud moan from Ashton even as he panted for more. Licking up and down Ashton's shaft, Rex was doing so well at the blow job that Ashton had to tell him stop as he was ready to bust.

Ashton pushed Rex back into the futon and was soon hard at work on Rex's already hard cock. Bobbing up and down, Ashton put his hard earned skills to good use as Rex gently pushed down on Ashton's head, hinting that he wanted Ashton to go deeper. After a few minutes of Ashton's hot mouth on his cock, Rex was eager to get down to the fun part; fucking Ashton's tight ass. Futon opened up and both boys lubed up and ready, Ashton got down on knees and elbows with Rex kneeling behind him. As Ashton braced himself with a pillow underneath his front, Rex slowly thrust into Ashton. It had been a while since Ashton had been fucked so he was in some discomfort as Rex breached his ass, Ashton gasping as Rex gently thrust in and out. A few minutes later and Ashton gave Rex the go ahead for him to fuck him harder. Almost instantly, the room resounded with the slap of flesh against flesh as Rex fucked Ashton in long and deep strokes.

They switched to Ashton laying on his back, Rex sliding right back into the tight ass. As Ashton lay there, panting and moaning, Rex was able to go harder and faster. Soon enough, Rex was pounding Ashton's ass without mercy even as Ashton tugged on his own hard as a rock cock, both clearly on the verge of cumming. Turned on by the feel of a cock in his ass, Ashton came first, cum dripping down his shaft and into his pubes while Rex continued to ride his ass hard. One.. two.. three thrusts later and Rex pulled out, ripped off the condom and jerked off over Ashton's stomach and chest. Both boys did a great job so look out for them in the updates.