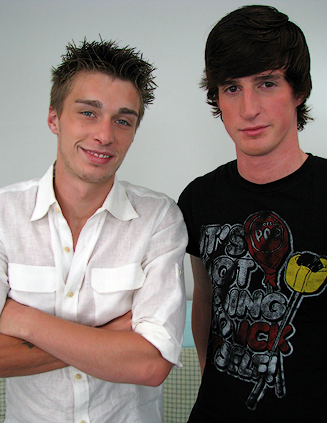 Ashton and Jase are in the studio today to do an anal scene with Ashton bottoming, as he always loves to while Jase will be topping. Right away, the atmosphere in the room was relaxed as the boys were getting along really well. Ashton started talking about how much he liked the feel of a dick up his ass which led to him saying he would love a girl to fuck him with a strap and somehow, this led to a shout out to Ms Diedra and Querty. All through this, Jase had listened with a somewhat bemused look on his face. With a price of $1000 for Jase and $1200 for Ashton, the boys started to strip off.

Standing up, Ashton danced a little to his imaginary theme song as Jase laughed at him. With both boys naked, Ashton did his usual 'dick dance' before they both sat back down. After watching the straight porn for only a few minutes, Jase was rock hard, prompting Ashton to lean over and swallow down the thick cock. Ashton slowly bobbed up and down as he worked on Jase's dick, deep throating a few times as he showed what a pro he was. Moving his head this way and that, Ashton soon had Jase moaning in pleasure. Ashton came close to making Jase cum as he twisted his hand around the shaft of the firm dick while he sucked on the head. As Jase was too close for Ashton to continue, it was now Jase's turn to return the favour.

Ashton sat back into the futon, relaxing as Jase honed his new found skills on Ashton's dick. Jase must have been practicing out of the studio as he had Ashton telling him how good he was. It wasn't long before Jase had Ashton's cock hard as he slid it in and out of his wet mouth. All too soon, Ashton decided that he was ready to get fucked. I told them to open up the futon and get ready but Jase said that they had their own thing all worked out. With both boys lubed up and prepared, Ashton knelt on the futon and leaned over the back while Jase knelt behind him. Slowly, Jase slid into Ashton's tight ass until he was all the way in. Right away, Jase was able to start pounding into Ashton, making Ashton moan with every thrust.

Looking down towards his own ass, Ashton admitted that he got turned on by seeing his ass ripple with each thrust. This just made Jase fuck him all the faster, even going deep and hard a few times, wrenching a groan from Ashton. Switching it up, Ashton lay on his back, legs spread with sliding right back into him. In this position, Jase was able to go a lot deeper, much to Ashton's appreciation. Lowering his legs a little, Ashton groaned in pleasure as Jase's cock hit exactly the right area. Jase sped up, pounding Ashton hard and fast, making Ashton moan in both pleasure and pain. Moments later, spurred on by the sound of Ashton's moaning, Jase announced he was about to cum.

Jase pulled out, ripped the condom off and wanked off furiously over Ashton, cum dribbling into Ashton's pubes and onto his cock. Ashton wasn't far behind him, tugging on his cock until he came over his smooth stomach. Both boys did a great job and I'm sure that they will be back in the studio sometime soon and maybe next time, I can convince Jase to bottom for Ashton?