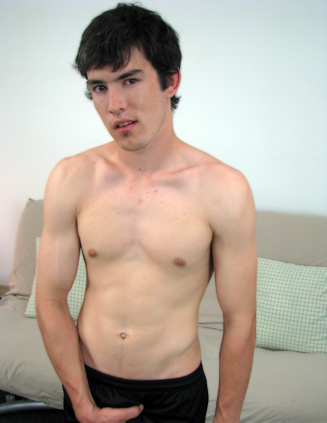 David Taylor is the newest straight boy on the futon today at Broke Straight Boys and right away, he is pretty enthusiastic about being at BSB. He found an advert on Craig's List on the adult side and applied thinking it was for a straight site but once he was informed it was for a gay site, David decided to think about it overnight. As he is married with two kids, he talked it over with his wife who was quite turned on by the thought of her husband being with other guys. In the end, he decided that as they needed some extra money, he might as well give it a try.

I explained to David that he would only be doing his solo scene today and that he would receive $200 for it. David, with his dark hair and eyes, stood up and took off his shirt and shorts, revealing a toned and muscular upper body that complimented his 5' 11" frame. As he undressed, he told me that both he and his wife are unemployed which is another reason for doing porn. I got him to turn around and pull down his underwear, flashing his rounded ass cheeks to the BSB members, David telling me that he weighs 155 pounds and that his feet are size nine.

With the straight porn playing, David sat back down on the futon and immediately started playing with his soft cock. Taking off his undies a moment later, David went right back to tugging on his cock. David reached over for a dollop of lube, rubbing it all over his dick until it was nice and slick against the palm of his hand as he jerked off. It was obvious that David was quite nervous as he kept glancing at the camera but he still kept pulling on his half hard cock. He started to really get into it; gently thrusting his cock up into his own fist and playing with a nipple every now and again as he panted heavily.

He had such a nice looking cock, I couldn't help but take it in my hand and have a feel of it myself, giving the hard shaft a couple of strokes. David took control of his cock again and it was clear that he was getting pretty close. Sure enough, a minute later, he warned me that he was about to cum when a waterfall of cum dribbled down his shaft and in between his fingers. David did such a great job, that I told him I was going to give him $300. I asked David if he was interested in coming back to BSB and despite sounding a little unsure, he said he would be up for it, so, make sure you keep checking all the updates for the next appearance of David T.