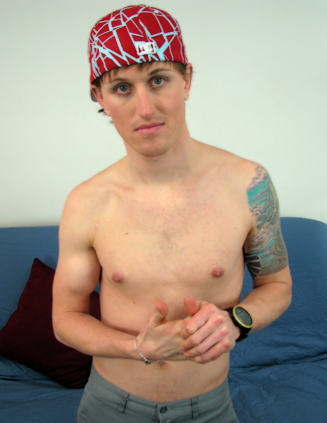 Today at Broke Straight Boys, we are happy to introduce a newcomer, Price, to the futon. Price is a 21 year old struggling musician who plays lead guitar in a band. I told him that today he was just going to jerk off for the camera and that he was going to earn $200 for it. I informed Price that the more he did in front of the camera, the more he would earn but from his expression when I hinted at doing an oral scene the next day, Price was pretty shocked at the mere thought of it.

Price stood up and started taking off his clothes, telling me that he was 5' 10" and weighs 140 pounds. As he was somewhat self conscious about his dark brown hair, Price refused to remove his cap, even though, he allowed me to get a quick glance at his not too bad hair. His t-shirt thrown to the floor, Price flashed a half sleeve tattoo on his left arm towards the camera as he talked about having both a girlfriend back home while also sampling the girls in the towns he plays with his band. Stripping off his shorts, Price revealed a pale, slender but toned body that had hints of muscle definition. Price, still clad in his tighty whitey's, sat back down on the futon. As I went to put the straight porn in the dvd player, Price grabbed a dollop of lube, shoved a hand down the front of his undies and started to get busy.

After a moment, he took off his underwear, rubbing his soft dick and low hanging balls as he watched the porn. As Price played with his cock, it was clear he was quite nervous as he kept glancing towards the camera, however, he kept stroking his hand over his slowly hardening shaft and cut cock head. A shift in position and Price was soon rock hard and breathing heavily as he leisurely jerked himself off. With his eyes closed, Price started fisting his dick harder and faster, his hips moving up and down as he got into the rhythm of things. Another dollop of lube and Price went right back to it, sliding his cock in and out of his tight fist.

As he went back to watching the porn, it wasn't long before Price announced that he was close to cumming and sure enough, great spurts of cum landed all over his stomach and chest. Price did a great job and is just the type we like at BSB; good looking, great sense of humour and of course, broke. Despite his reservations about coming back to do an oral scene, I'm sure we haven't seen the last of Price the Rocker.