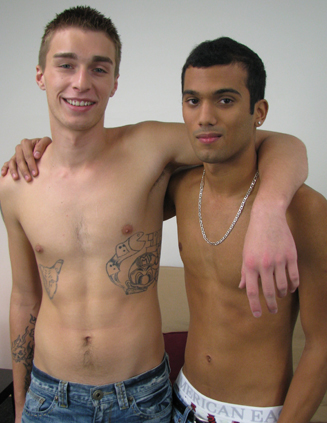 Despite Ryan featuring on Broke Straight Boys already, in a scene with Zakk, this is actually the first video he shot with BSB and he was lucky enough to do his scene with Ashton. Ryan is a big fan of the site, very broke and wanted to model for us but because he is gay, there are very few opportunities for him with BSB, however, he was so cute, I decided to make an exception. Ashton walked into the room and introduced himself to Ryan, who was a little 'star struck' at meeting one of the models he had the hots for. I explained to Ashton who Ryan was and that it was going to be an oral scene. With the price discussed, Ashton was happy with $600 and Ryan with $300, it was time to get the show on the road.
Ashton stood up and started stripping off as Ryan sat shyly on the futon and watched. As Ryan was quite reserved, I had to prompt him to get up and start getting undressed, reminding him to take his socks off. With the porn playing, it didn't take long for the boys to get hard, Ryan volunteering to suck dick first. Sitting next to Ashton on the futon, Ryan stroked his own dick as he worked on the head of Ashton's stiff cock. Almost right away, Ashton was breathing hard as Ryan put his skills to good use. It was obvious that Ryan had experience with sucking cock, Ashton admitting that Ryan was pretty good. Ashton was loving his blowjob as Ryan deep throated him, making Ashton pant hard even as he reached around and took control of Ryan's dick. They shifted positions, Ashton stand up in front of Ryan, one foot resting on the futon, his cock shoved down Ryan's throat as Ryan fisted his own dick again.
It was time for Ashton to show Ryan he wasn't the only one with some skills, so Ashton got down on his knees and swallowed down Ryan's cock, sucking hard for a few minutes before the boys decided to open up the futon. Ryan lay on his back, his legs spread wide with Ashton between them, his dick in Ashton's hot, wet mouth. It was clear that Ryan wasn't totally comfortable in front of the camera and Ashton was having to work overtime in getting Ryan's cock hard. Ashton pulled out all the tricks, alternately sucking Ryan's cock and tonguing Ryan's ass and balls while Ryan pulled on his dick even as Ashton jerked himself off the whole time.
Ashton then decided to do something a little different; asking Ryan if he would like a butt plug up his ass. Lubing Ryan's ass and the butt plug, Ashton slowly pushed it into Ryan's ass, causing Ryan to pant hard. Ashton fisted his own dick as he gently thumbed at the base of the butt plug, watching intently as the motions sent shocks of pleasure through Ryan. Ashton slid it in and out of Ryan's ass in slow, smooth motions even as it was clear from Ryan's heavy breathing and furious wanking that he was close to cumming. Only a few minutes later, Ryan climaxed, cum spurting over his lower stomach and in his pubes, Ashton closely following him as cum dribbled down his shaft. Ryan and Ashton did a great job for the camera, especially Ryan once he was over his nerves, with both of them returning to BSB in the future.