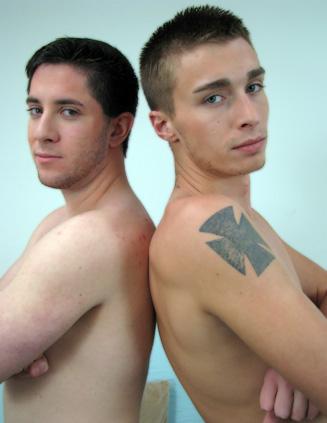 Here, at Broke Straight Boys, we have Ashton and Jake. Jake has only done his solo shoot while Ashton has appeared on College Boy Physicals but is new to BSB. Aston is 19 years old, blonde, 5' 11", has tattoos scattered around his skinny white boy frame and says that although he is 'gay for pay', he has a girlfriend at home. Right away, Ashton's big personality filled the room while Jake was a little quieter. Today, Jake is going to take his first cock in his straight boy mouth as it's an oral scene. I told them they were going to get $600 each for oral and they were happy with that although Ashton joked that he thought four grand was a more reasonable price.
The boys stood up from the futon and started stripping off, Ashton launching into a sexy shimmy, giving the camera a close up view of his striped swimwear style underwear while Jake showed off his own white loose legged undies. Putting on some straight porn from Broke Straight Girls, I told the boys to get themselves hard. They took off their underwear and with hands on cocks, they started to stroke their dicks, Jake saying that he wanted to give head first. However, he quickly backed down and wanted Ashton to suck cock first. Ashton was up for it, pushing Jake back on the futon and leaning over him, taking the dick deep into his mouth. Jake just leaned back and enjoyed it, commenting that he didn't know that another guy could give such a good blow job even as he directed Ashton to suck on his balls.
Jake was getting so turned on, he made the move to take his turn at sucking cock, swallowing down Ashton's dick, his head bobbing as he sucked on it. Jake was a quick learner; he soon had Ashton breathing heavy and telling Jake to choke on his dick, Jake's own cock being as hard as rock as he jerked off. They opened up the futon, Jake going right back down on Ashton as if he couldn't get enough of the hard dick in his straight boy mouth, even trying some deep throating. They switched into a 69, both boys working hard on the cock in their mouth. Jake and Ashton were close to cumming from only a few minutes in that position, so they broke off and jerked themselves off, Ashton helping Jake out by massaging his balls.
Ashton was the first one to cum, shooting over his stomach and in his belly button. Taking a handful of his own cum, Ashton rolled Jake's balls in his hand and a few minutes later, Jake's cum sprayed all over his chest and hand. Both boys were tired from their workout and I asked Ashton how Jake did for his first time, Ashton grinning and saying that Jake did pretty good, a comment that Jake seemed pleased with. Ashton and Jake both said they would like to come back to BSB so I'm going to see what I can set up for them in the near future.