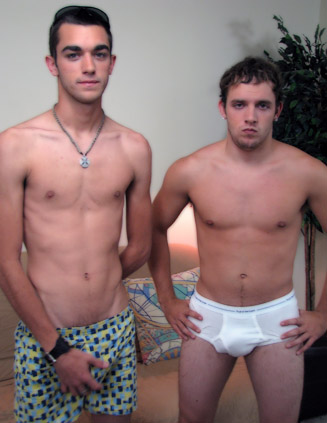 Bringing CJ and Damien back into the studio I asked what they were spending their money on and
one said it went towards rent. The rest they just do whatever with. The two of them already knew
that they were going to be doing more fucking with the idea that I wanted something a little more
intense than just the first time they fucked. To get undressed I had them stand for me and the
pieces of clothes started to hit the floor. One by one until both boys were left there standing
completely naked. I had Damien spin around for me to show this ass to the camera. He had a little
bubble butt going on, but he wasn't going to bend over for me. Taking a seat on the couch the two
of them started talking about who was going to suck who first. CJ started being mumbles again
when I couldn't understand what he was saying. Damien was going to suck on CJ, he leaned over
got his mouth to work giving the blow job. CJ even leaned over to jerk Damien's dick to keep him
hard throughout the oral. I noticed that Damien had a necklace on that kept getting in the way, so I
asked him to take it off. He had some trouble getting the latch on the chain undone.

Resuming the blow job Damien had his work cut out getting CJ's dick to grow, and after only a
couple minutes he gave up. Sitting up Damien was ready to switch and so CJ leaned right over to
suck cock. As he got started Damien was joking around about CJ's blow job, and that's when I
signaled him to push down on CJ's head. Sure enough he tried, but CJ stopped to tell him to knock it
off. Continuing with the blow job Damien was very sensitive and when his dick was rock hard it was
time for them to fuck. The guys got ready with CJ getting his ass lubed up, and Damien putting the
condom on. Getting on the bed they started in the doggy-style position and Damien pounded his
hips against CJ's ass. CJ was moaning a little more than he usually does, and Damien slapped him
on the ass a couple of times. The guys were good about flipping over when they were ready and CJ
just laid there pumping his cock occasionally until he felt like he could cum. Damien just slid his big
dick in and out of CJ's hole at a steady pace so that way he could make CJ comfortable with the
speed. Once in a while I would see CJ reach his hand back to slow down Damien.

Damien was starting to lose his hard-on, so I told him to just pull out and jerk off so that way it
wouldn't take him forever to get off. The two of them stayed in their positions and it wasn't long
before CJ gave me a warning that he was about to cum. When he came, the cum was very thick and
it was one of his biggest loads that he has ever had here on Broke Straight Boys. Damien got up on
his knees when he was ready, so that he could shoot his load on CJ. I noticed that his strokes were
much shorter and quick. As he came he squeezed out every drop of cum, and then he jumped up
asking for his money right away. CJ also got up and walked off to turn on the shower to get cleaned
up. Damien did the helicopter with his dick and then I reminded him that we never agreed to a price
for doing the shoot. Joking around with him I said I would pay him 2 dollars, and he said for me just
to buy him a coke to call it good. Both guys were a blast to film.