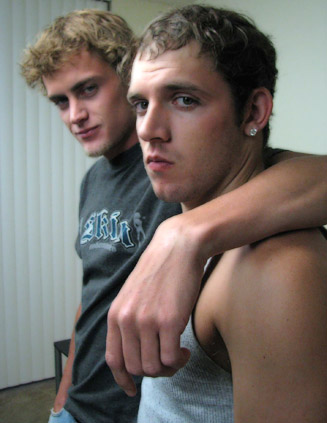 Bringing back Shane and CJ for their next shoot, I actually found out that the two of them have been hanging out with Tyler outside the studio. Tyler mentioned that he knew about them doing the oral scene and wanted to help out with the next one that they were going to be in. We talked about it and I told him that I would let him take pictures for the shoot. The three of them were setup to come in for the shoot later in the week. When they arrived all three of them made casual conversation about their girlfriends and their plans. I overheard CJ say that he had left his girlfriend tied up back at their place, naked waiting for him to return. It was a little fantasy that she had, so he did need to hurry. I brought up that we should see about them bring their girls for one of the shoots, and that's when Tyler spoke up telling me not to give away something that they were working on. Dropping the subject I really quickly just brought up that they were doing an anal shoot, and when I asked Tyler what he thought they should start doing first he said oral.

To get started I had the guys get undressed and they wasted no time in getting out of their clothes. One by one their articles of clothing hit the floor until they were left completely naked, and the two of them stood there standing watching porn. In talking to Tyler, I asked what should happen first between the guys, and he said oral to lead into the fucking. CJ moved to being down on the floor on his knees in front of Shane, who semi was watching a video that was playing in the background. Taking the flimsy, limp, cock in his hand he put the top section of the dick in his mouth and started sucking. Standing off to the side I was able to capture as Shane's dick got harder it was much easier for CJ to suck. Shane seemed to be getting turned on, as I noticed that he started to rock forward, wanting to face fuck CJ's mouth. They kept the same pace, and then Shane seemed to get tired of standing. I told him to take a seat on the couch to make himself comfortable, while CJ continued to stay on the floor in front of him. Continuing with the blow job, CJ got him hard with a combination of using his mouth and hand.

I mentioned to them that they could get ready to fuck, and Shane was the first one on his feet changing the couch into a bed. Once they were both ready, CJ assumed the doggy-style position in the middle of the bed with his ass up in the air ready to be poked. Starting very slowly Shane had to work at getting the tip of his cock in first. From there, it was a step by step process to work a little in at a time. CJ's hole was very tight, because this shoot was done when CJ had only been in a couple of shoots for us on Broke Straight Boys. As time went on Shane was able to get most of his dick in and move around without CJ really freaking out. This was what I had hoped for, as the two of them seemed to pick up speed CJ seemed to enjoy the anal more, and I know that Shane liked it as well. I told the guys that they should try another position and so CJ rolled over on his side. Raising one leg up in the air and one between Shane's legs, the two boys began to fuck again. As he laid there taking the cock up his ass he started to stroke his dick, and it didn't take him long to almost reach an orgasm. I told him not to shoot his load yet.

CJ was on the edge of shooting his load, and Shane was just getting into the fucking. I told him to speed up and try to get in deeper. Doing this both guys moaned, and you can watch as the tip of Shane's cock almost comes out and then goes right back in. With a warning that CJ was about to cum, a burst of cum hit his mouth and noise, and the rest finished on his stomach. I told Shane to keep going, and that he did. However, it didn't take him long either to get to his climax. He pulled out, stroked his dick, and then shot his load with it landing all over CJ's dick. Afterward, I pointed out that CJ was covered in cum, and that Shane popped the load right out of him. The guys were tired from all that work, and were ready to hit the showers. I always look forward to having them in the studios, because I always get their best.