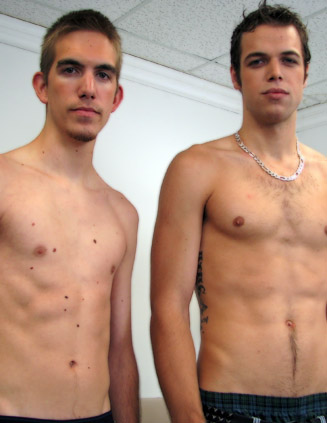 Bring Ty in for a shoot, he was a local guy that responded to an ad that we had running in a local paper for models, and was interested in the money that we were offering. We went through the process of him sending photos in and applying with us, and then I setup to have him come in for a shoot. The day of the shoot I had him take a seat on the studio couch. He seemed to be a little nervous and shy, but I had hope that he would relax the longer he sat there. In asking Ty some questions, I found out that he had been married, has kids, and currently is working. However, the job that he has doesn't seem to be bringing in enough money to meet all the bills, so he had to look for extra work that he could do on the side. I explained how things normally work around the studio for people who are just starting out. However, I explained that I had another model in town doing shoots, and that I wanted to bring him in. The two of them could do an oral scene and hand jobs, in return he would walk out making more than we originally discussed.

Hearing the sound of more dollars, he was interested and okay doing oral with another guy. I asked if Ty had ever tried it before and he said once when he did some exploring to find out what he liked sexually. I called Diesel into the room and he shock Ty's hand before taking a seat next to him on the couch. I explained how much each of them was going to make, and I brought up one of the questions that we had received off of the forum on Broke Straight Boys. Bookse wanted to know if it was really just the money that motivated the guys to do the shoots, or if it was also the experience as well. Directing the question towards Diesel, since he has done a lot more work here in the studio. Diesel responded by saying that really it was a combination of both the money, and also who he would be doing the scene with. He has developed some friendships with the guys he has worked with and talks to them outside the studio.

The guys were ready to get undressed so I had them stand and face each other, and they started by peeling off their shirts. Shoes and pants were next, leaving them both in boxers. I had them take a seat on the couch and asked what kind of porn they wanted to watch. Ty said that he wanted straight porn, as they played with their dicks inside the boxers. After a while when I figured they were hard, I had them take them off so that we could see their dicks. Both guys had about the same size dick I guessed, it was just that Diesel was a little more hard. In deciding on who would give oral first, I had Diesel treat Ty to his first blow job. Diesel took the other straight boy's cock in his mouth and sucked it just like he has learned to do. Ty would make moaning sounds once in a while, showing that everything was going good so far. I told Diesel that he could give Ty a hand job, and that seemed to keep him hard. Then, it was Ty's turn to return the favor.

Ty lowered his mouth down to Diesel's cock and as he put it in his mouth, I reminded him not to use any teeth. The oral was able to get Diesel's dick really hard, making the cock a lot thicker. Ty was only able to take in about half the cock in his mouth. After a while, Diesel started to face fuck Ty's mouth to get the oral to a speed that he liked. I had Ty stop and go to jerking Diesel off, and Ty was pretty good at keeping his hand going fast. At one point Diesel took over saying that he was about to shoot his load. A few seconds later he shot his load in front of him all over the couch, several squirts of cum went up in the air. Making his cum shot look very slow motion. After that I had Diesel go back to sucking Ty's dick to get hard again. Using some lube Diesel gave Ty a hand job and I could tell that after a while Diesel's arm was getting tired. Without giving a warning, Ty started to have his orgasm and really his only big sign was the breathing. The cum went all over Diesel's hand and was very, very thick. It reminded me of glue! Diesel said it reminded him of flubber, and he wanted to go wash it all off. I hope that Ty will come back and do anal soon.