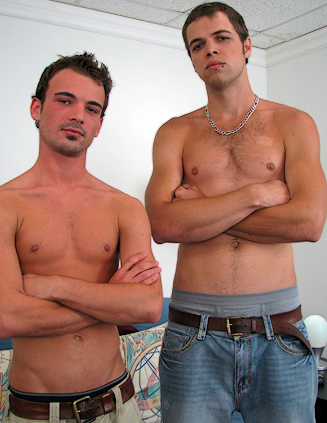 Today, Broke Straight Boys has a special guest; Aaron from Broke College Boys. Aaron is here to do an oral scene with Diesal. Although he came onto Broke College Boys as mainly heterosexual, Aaron now considers himself bisexual and is more comfortable with his sexuality. As Diesal chatted with Aaron and myself, he has a couple of shout outs for Ms Diedra and JWGlass, both of whom he had met at various BSB events across the country. When I asked Aaron about why he was at BSB, Aaron said that he was broke from having spent his money on tuition and books for his Emergency Medical Technician course and wanted to continue on to become a Paramedic.

What was interesting though, was just from Aaron and Diesal sitting next to each other on the futon, it was obvious that there was a considerable size difference between them, however, when they stood up, the difference was startling. As they took off their tops and shoes, Aaron said that he was 5' 8" tall while it was clear that Diesal was well over 6 foot himself. I asked the boys if they would consider kissing but neither of them were interested, despite both having kissed in scenes before. With their shorts taken off and thrown to one side, Diesal and Aaron sat back down on the futon, playing with their dicks as they watched the straight porn playing. A few minutes later, the underwear hit the floor, revealing two fairly hard cocks in the process. As Aaron said his cock was around 7.5 inches, the boys decided they would throw in a free kiss, Diesal leaning down and giving Aaron a peck on the lips which left them both laughing. Before he sat back down, I told Aaron to show his ass to the camera as he had a pair of tight ass cheeks.

Diesal and Aaron sat back down on the futon and as Aaron had volunteered Diesal to suck cock first, Diesal leaned over and slid the hard cock between his straight boy lips. Aaron grabbed hold of Diesal's cock, putting in some hard wrist action as Diesal bobbed up and down over Aaron's rock hard dick. Every now and again, Aaron would push down on Diesal's head, wanting him to go deep. Diesal obviously had some great skills at giving head as he had Aaron panting heavily right from the start. As Diesal cupped a large hand around Aaron's balls, Aaron admitted that guys give better head than girls, something Diesal agreed with. Breaking off for a moment, Diesal pumped the hard shaft, kissing Aaron's hip once... then twice, before licking up and down the long dick. Running his tongue along the piss slit, Diesal swallowed Aaron's cock, his head bobbing up and down.

Finally, it was Aaron's turn to return the favour. Pushing Diesal back into the futon, Aaron took control of Diesal's large cock. As Diesal jerked him off, Aaron was having a bit of trouble gauging how best to handle Gigantor. Soon enough, he had a good rhythm going as he pumped the thick shaft while sucking on just the head of Diesal's cock. From the way Diesal was moaning and panting, Aaron had clearly learnt his trade well on the set of Broke College Boys. Every time Aaron ran his tongue along the very tip of Diesal's dick, Diesal groaned in pure pleasure. Too soon though, both boys were too worked up to continue with the blow job so, grabbing some lube each, they took control of their own cocks and jerked off in a race to be the first to finish. Aaron's blow job had been so good, Diesal only took a few pumps before he shot like a fountain, high into the air with cum splattering all over him. Aaron couldn't help but sneak a few peeks at Diesal's dick as he came, cum splashing into his belly button and over his stomach.

Both boys did a great job and it was $600 each well earned. As Diesal and Aaron aren't opposed to doing an anal scene together, make sure you watch out for the updates.