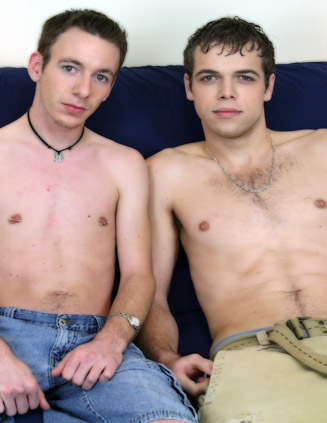 Bringing Diesel and Jimmy back in for more work, the plan was for them to do anal. Of course, I gave Diesel shit, because I wanted to see him take a dick. However, the plan was that Jimmy has been moving along in doing shoots here on Broke Straight Boys very well, and he was going to try anal for the first time. He's bi-curious and has been exploring what he likes, and I had to warn Jimmy about the size of Diesel's cock. I found out that Jimmy spends his money from the shoots on paying bills, and Diesel spends his on having a good time. Both were fine with the amounts they were going to be making for doing the shoot. Getting started without really wasting any more time I had the guys remove their shirts. We talked about their height, because Diesel has a good difference to Jimmy. Going for their pants we discovered that Jimmy had on a jock strap, and I had him show it off for us. While Diesel had on a pair of grey boxer briefs. I asked what kind of porn they wanted to have on, and Jimmy spoke up by saying bi-porn.

I asked the guys to work on getting hard, and then I was going to have them do some oral. Both guys pulled their dicks out to jerk off, and after a few minutes I asked Diesel to go first in sucking Jimmy's dick. Grabbing it with two fingers he lowered his mouth right down to it and started sucking, concentrating on the top portion of it. He didn't really do anything special, however he wasn't doing a horrible job either. I asked Jimmy if he thought that Diesel was straight, and his response was yes. Diesel fits right in the category of "gay-for-pay"and only messes around with guys on camera. Then, it was time for oral to switch, and Jimmy got to suck on the monster dick. He seemed to be in heaven when that dick hit his mouth, and he got to service it. As Jimmy gave head, I asked Diesel if he thought he was bi-curious and he just replied with a, "yeah". With Diesel's cock as big as it was, I asked Jimmy to try and take in as much as he could, but the cock was so thick that he still could only go down so far. It seemed after a while that Jimmy was tired of giving oral, and that they were ready to start anal.

Diesel stood up and said that they were going to start off with Jimmy on his back first, and with that the guys got into position to start. Pushing in slowly at first, I noticed that Diesel just moved Jimmy's legs and body around to whatever position he needed them in. As the two of them were able to fuck, Diesel just tried to get to a rhythm. When that happened, Jimmy started to let out the moaning and get into it. Yelling for more! The guys did break to try another position and they were able to get Jimmy's ass positioned up into the air, so that he was up and down. In this position, I was able to catch Diesel's hairy hole a couple of times along with lots of the penetration. Moving around to the front to see Jimmy's face, it was hot to see that Jimmy was getting completely turned on watching himself get fucked. To be careful that Jimmy wouldn't pop his load too early, I had them change position one more time, and Jimmy got in the doggy-style position.

Jimmy was not positioned so that Diesel could fuck much harder and deeper, and with that being said things got off to a very quick start. The two of them both were reacting to what the other one's actions were, and while Jimmy would kind of be in pain, he also didn't want it to stop. At one point Diesel even pushed Jimmy's face down into the pillow to keep him quiet, so that they could continue. They both seemed like they could be getting close and I wanted to see Jimmy shoot his load from having the monster cock inside him. He rolled over and Diesel kept the fucking going and made it more intense by pushing in as deep as he could go. That's when Diesel said that he was about to cum, and pulled out stroking his dick right over Jimmy. Diesel came all over Jimmy's chest with precum, and then the rest went on Jimmy's lower pelvic area. Jimmy took a few minutes longer, and came on his stomach with a good size load. Both guys were sweaty, tired, hot, and red. Relieved after all that build up to the climax, they were ready to get cleaned up after a very good shoot.