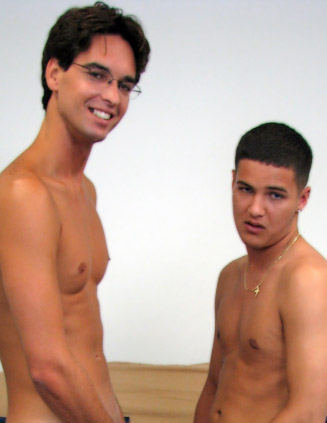 I brought Christian back for another shoot, because he has done pretty good in front of the camera so far and I wanted to see if he would go all the way doing anal with a guy. We spoke on the phone about it for a while, with his main motivation for doing it being completely broke and needed some money to get him by until his next paycheck. That being said I got on the phone to see just who I could pair him up with that would be flexible enough, not really knowing how things were going to go in the shoot. I made the decision to go with Nu who allows does a great job in the shoots that I put him in and he can top or bottom as well. The day of the shoot we didn't waste much time after they arrived before I had them take a seat on the couch to begin. I asked Christian how his nerves were, to find out if the shoots were becoming easier for him each time. He said that he was a little nervous and that can be a good thing, creating adrenaline that causes anyone to be more aggressive and aware of their senses during sex.

I pointed out that Christian would be bottoming in the shoot and that Nu would top. Christian was shocked that I would make him bottom, so his response was no and he was not ready or would ever want to take a dick up his ass. I tried just for a moment longer to see if I could get him just to try it, but then I went right over to Nu and told him he would have to do it. Like usual I was going to pay him more money for doing it, and both guys were ready to get started. I had them remove their shirts first, and then their pants. Nu had on a pair of shorts, and somehow we got on the subject of jerking off with a pair of shorts on. Christian said that he would do it all the time, and Nu brought up that he thought it was too uncomfortable. The guys took a seat on the couch and I got some straight porn playing in the background for them to watch to help them get hard. I gave them a few minutes and then I had them strip out of their underwear. Nu was ready, however Christian seemed to want a little longer. He just wasn't hard yet, and I told him not to worry that Nu was going to give him oral.

Nu being a senior model here on Broke Straight Boys, leaned right over and started giving head to Christian to get him hard. With some talent, lots of spit, and time Christian seemed to be on his way. Nu used his hand in a twisting motion with all the spit from his mouth to stimulate the main part of his shaft, and he sucked on about half of the cock with his mouth. Once Christian's dick seemed to stay up in size, I asked him if he was ready to fuck, and he said yes. The guys hopped off the couch and Nu made it into a bed, while Christian put on a condom and lube. Nu started out on his back, with his legs against Christian's chest. Guiding his dick towards the hole Christian used his body weight to help push against Nu's tight hole that was resisting at first. All of a sudden there was some give, and the dick just slid right in. Causing Nu to have some discomfort, but after a while the muscles relaxed allowing them both to get more into it. As the two of them fucked, it seemed more like Christian was bouncing on Nu's ass and he was getting most of his dick all the way in as far as he could. In watching them after a few minutes Nu was rolled up into a ball and Christian was going much faster with the fucking.

I tried to get them to try some other positions, but nothing ever seemed to work as well as Nu just staying on his back. A couple of times Christian would lose his hard on and would need a moment to get it back again. I told Nu that he could go ahead and start working on getting his dick hard for him to get off. At a steady pace he began to stroke his dick as he got fucked, and before I knew it his dick was hard. About a minute or so later he was ready to shoot his load and he came right on his stomach. Nu happens to always save up his loads before shoots to make sure that he has a good performance on camera. That being said, Christian pulled out and started jerking off over Nu. He didn't take, but a few minutes stroking his dick before he reached his orgasm and shot his load on Nu. Christian didn't do bad for his first anal scene with a guy, we just need to work on his nerves calming down some during the shoots. Both guys were ready to get cleaned up, especially Nu who was covered in cum and collect their checks. Hope to have them back.