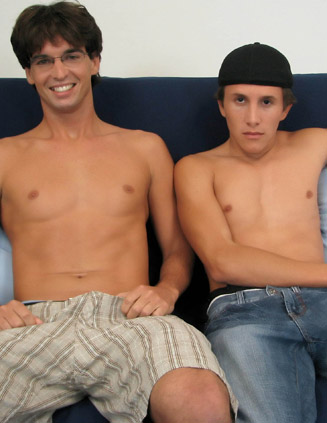 I brought in Nu and Jake to have a seat on the couch, while I grabbed the camera to start filming. Both of these boys are going to school, and starting on the same day. I told them that it would be a little weird to walk around campus and bump into each other. However, they're not going to the same school I found out. I told Nu that Jake has done a solo and oral scene already and was ready to do his big anal scene. That being said he wanted to top, meaning that Nu would have to bottom. I told the boys that I haven't been negotiating with the models over pay, just doing a flat rate. $1000 to Jake for topping and Nu would walk away making $1500, that is when I allowed Jake one more chance to change his mind. He didn't, and so I told him not to worry that Nu could take his cock. Both boys are bi-sexual, and Nu has a girlfriend in his outside life, but she is going to another school far away from him. As for Jake he lives the single life and will get to experience the college life. We went over what they were going to do, starting out with getting hard, doing a little oral, before going to anal.
The boys stood up and started with removing their shirts, and Jake kept his hat on. Stepping out of their shoes, Nu pointed out that he had his color stripped socks on. Jake was quick to get out of his jeans and take a seat on the couch. Nu has done many shoots so he is always relaxed and easy going on camera. After he had stripped down to his underwear he took a seat on the couch. I asked Nu if he was comfortable kissing since that was something that Jake wanted to do, and that's when Jake told me that the two of them already talked about it. As we were leisurely talking I noticed that Jake was softly touching Nu's hand and went to rubbing his hand with Nu's thigh. While I turned around to put the porn on for them to watch the two started working on getting hard. Jake was quick to slide his hand inside Nu's boxer briefs to get at his dick. Nu's hand was rubbing Jake's upper chest, working its way up to Jake's neck directing Jake to turn his head for the kiss. The two's lips started to touch and they were kissing. While they were doing that, each other's hands were trying to jerk the other one off. However, their underwear was getting in the way and Jake said that they needed to come off.
When the guys stopped to remove their underwear it was the perfect chance for them to change the couch into a bed. As the two were getting ready to continue where they left off Jake had a boner that was flopping around. Once they were back on the bed, Nu went for sucking on Jake's cock. Jake did a little bit of moaning, and after a while he started to face fuck Nu's mouth. Nu had Jake's cock ready to do some fucking, so the two got prepared putting on the condom and lubing up the asshole. Getting into position Nu put his legs up against Jake's chest, while Jake started to push his throbbing cock in Nu's very tight asshole. The more cock that went in Nu's ass, the more that he started to get uncomfortable. He made Jake pull out so that he would relax, before trying it again. The last time Nu was fucked was a couple of months before, so he forgot how to relax. Jake was trying to keep hard to fuck, while at the same time not going to rough for Nu. Once Nu started to show that he was doing better, Jake started picking up the speed and going faster. With Jake being as young as he was, he was horny and wanted to fuck the hell out of Nu's tight ass.
I had the guys change position to have Nu get in the doggy-style position. Jake was able to slide right in and get all of his cock to go deep. He pounded Nu's ass to make it giggle and loved every minute of it. Nu started to stroke his cock while getting fucked, showing that he was turned on by the anal. Jake's dick slipped out, so at that moment he took his hand and rubbed the lube all over Nu's hole to get it covered again. Putting his dick back in, Jake was able to start fucking again, and it only took about two more minutes before Nu gave me the warning that he was about to cum. I told him to go ahead whenever he was ready. As the two were fucking, Nu came shooting his load of cum all over the sheet underneath him. Jake pulled out, took the condom off, and started to jerk off. He was able to get off pretty quickly, and when he did, all the cum went over Nu's back, covering him in cum. Afterward I told Nu that he could use some practice bottoming and that he should have his girlfriend use her dildo on him. Both Nu and Jake started to get up so that they could get all the fluids off of them. Hot to watch the young, new stud boy of broke straight boys fuck a guy for the first time.