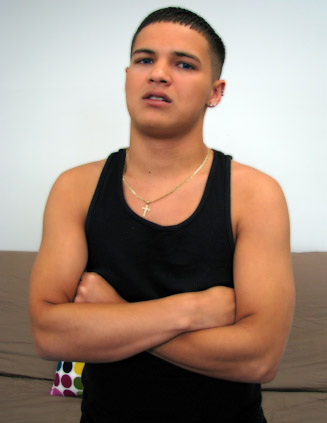 Let me introduce you to Christian our newest model to come here to Broke Straight Boys, and he came to us by applying on our site. Christian warned me on the phone that he was nervous, but did want to have his chance to come in to do a shoot. I explained to him that he would be doing a solo casting couch shoot, and he said that was fine with that. A couple days later when he arrived at the studio for his appointment, I was greeted by a young, jock-type straight boy looking to have his chance in front of the camera. Christian is 18 years old, he said that he's straight, but that he has some bi-curious thoughts and has no objections to being with guys. He said that he has had sex with girls, but never been with a guy before. I asked him to tell us how he came to be here on Broke Straight Boys, and his response was that he lives on his own and recently got laid off from his job. Plus, the fact that he wanted to start having new experience and was open to trying everything at least once.

Christian said that he was fine with doing the solo shoot, and then from there being slowly introduced to doing shoots with guys. As he stood up to get undressed, he told me that he stands 5'4", and works out at the gym when he can. After taking off his shirt I asked him if he had any tattoos, and he pointed them out to the camera on his body. I explained to Christian that in the next shoot if he comes back we would have him in an oral scene with another guy. The other guy would suck his cock, and then he would return the blow job. With Christian being as nervous as he was he just kind of nodded his head and said yes. Taking off his shoes that were a size 8, he stripped off his gym shorts that he was wearing and he was left in his white briefs that he had on. I made him turn around and show his ass to the camera for us to get a good look at it. I asked him to tell us more about how he got here. To make ends meet he started seeking out some ways to make some money and that's how he came across our info. In talking to Christian on the phone we both discovered that he was related to a previous model that we have worked with in the past and that was Taz. I told him that we have been trying to get a hold of him, and Christian told us that Taz is in jail right now. When I asked him if he knew that Taz had worked here he said no, and the two of them would never talk about it.

Putting on some porn for Christian to watch he wanted to have straight porn. Keeping his eyes glued to the tv, he pulled and played with his cock on top of his underwear. After a while he moan and it seemed like he was starting to get turned on, but before I wanted him to get too comfortable I suggested for him to take off his underwear. Tossing them to the side he then went for the lube on the table and got right back to wear he left off. Getting in more of a laying down position on the couch Christian made himself comfortable and in watching him I could see him jerking off like this at home to porn. I picked up on the fact that he had all of his lower pubic hair shaved, so that he was smooth. Christian stroked his cock in all different direction and even for a while took his attention off the tv and just closed his eyes. He asked me if he could shoot his load at any time and I said that he could go right ahead. A few seconds later his breathing got louder and more rapid as he got closer to having an orgasm. As he came, the cum oozed out of his cock and onto his stomach a thick, white load. Christian seemed a lot more relaxed after that and the nerves had calmed down. I told him that I would call him in a few days to plan the next shoot which was going to be an oral scene, and he seemed to be interested. Now, all I have to do is find a guy to pair him up with.