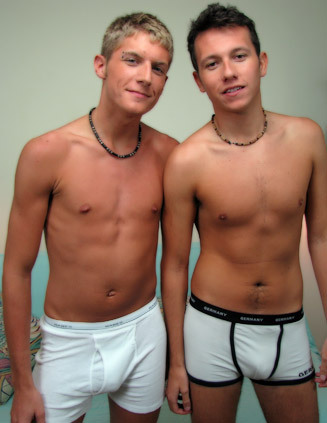 I paired up Jay and Fernando. My original plan was to put Jay with his straight buddy Alden together. When I had the conversation with Alden about doing anal, he told me there was no way that he was going to even think about doing it. I went instead to my backup plan and called Fernando to see if he was interested. The guys arrived at the studio and Fernando was really nervous about doing the shoot. As they took a seat, we started filming and introduced the two of them. Jay is bi-sexual, and I think that Fernando is bi-sexual as well. His experience with guys has only been here at Broke Straight Boys and with each shoot he opens up a little more. This shoot was going to be his first time doing anal, and so he said that he wanted to top. I let them know how much they both were going to make for doing the shoot, and hoped that maybe Fernando might be interested in trying to bottom after hearing how much Jay was going to walk away with. First, they were going to do some oral to get warmed up and that would lead into anal. Going for their shirts, they both stood up and stripped them off. Their shorts were next, leaving them in only their underwear, and they took a seat on the couch while I put on a video for them to watch. I wanted them to get hard, so that way they could start interacting with one another.

Both guys pulled their dicks out of their underwear as they watched the porn, and Jay was able to get hard in less than a minute. When he was comfortable, he dropped his underwear to the floor, leaving me to ask Fernando to go for his. I asked Jay if he wouldn't mind helping Fernando out, so he leaned right over and started sucking on the cock. The oral made Fernando's mouth drop open from the rush he was feeling. Even though it was happening slowly, Fernando was getting hard, and his cock was getting thicker in size. Jay used a combination of mouth and hand. He paused and sat up as he was jerking Fernando off, and that's when Fernando took the opportunity to return the favor. He put Jay's cock in his mouth and started to give head. Jay put his hand on the back of Fernando's head to use his mouth as his own personal toy. Both guys seemed to be getting horny as their cocks were getting hard from the blow jobs.

I asked the guys to stand up and get ready to start the fucking, but first they had to open up the futon. When I asked Jay what position he preferred to start out in, he said that he liked to be on his back. Bending down in front of the camera, he put his ass on display for the camera to see, and I talked him into trying doggy-style to start with so that way he could finish on his back if he was open to trying it. The last time Jay got fucked here in the studio he grabbed a pillow and put it under his stomach so that he could kind of hug it. As Fernando's cock pushed its way into Jay's hole, he squeezed the pillow more and more. Fernando went very slowly with his motion so that he didn't freak Jay out and cause him any huge discomfort. Jay kept telling him to go slow, and Fernando said that he was enjoying the fucking when I asked. After a few minutes, I asked Jay if Fernando could go any faster. Jay said no because he was still getting used to the feeling.

Flipping over onto his back, Jay put his legs up in the air and placed his hands on Fernando's thighs to help control the speed. As Fernando kept up a steady pace, he started to jerk Jay off in the hopes that would help him relax and get off. Jay's cock grew in size getting harder and it seemed to do the trick to take Jay's mind off of things. Fernando started picking up the pace and going much faster until Jay let him know that he needed to slow it back down. Fernando took over jerking him off and Jay pinched Fernando's nipples. As they were fucking, Fernando was starting to climax which made him fuck faster. He pulled out quickly and jerked off over Jay's cock as he prepared to shoot his load. As he came, several squirts of cum landed up the middle of Jay's chest and stomach. Jay then jerked off and Fernando just rubbed Jay's legs for body contact. When Jay came on his stomach it was a pool of white thick cum. I told them they did great and to go get cleaned up while I get them some money.